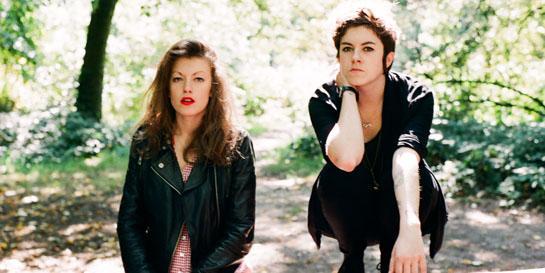 For fans of: My Bloody Valentine, Warpaint, Sonic Youth, Yuck, Queens Of The Stone Age
The Buzz: "…gorgeously abrasive dose of shoegaze, with a backbone built on harsh, metallic guitar crashes, coupled with sensual, deep and drowsy Mazzy-esque vocals and a stung, swollen bass line." - Loud and Quiet
Must hear: You're early
Wildbeasts, Warpaint, Yuck and Melissa Auf De Mer all proudly call themselves fans of fans of London-based sisters Hannah and Colette Thurlow, also known as 2:54.
The sisters taught themselves to play guitar as teenagers, but it wasn't until the closing moments of 2010 that the very first lo-fi Guarageband recorded demos appeared on the web, prompting a flurry of critical acclaim.
They became the act that all the best bands around wanted on the road with them, touring with everyone from Warpaint and Wild Beasts to Melissa Auf De Mer, Yuck, The Maccabees and most recently, The Big Pink.
Debut limited seven-inch On A Wire whetted critics appetites, consolidating plaudits that have now reached everywhere from revered US critics like Pitchfork, SPIN, Fader, Gorilla Versus Bear and Stereogum, to UK bibles like NME, Q magazine, Kerrang, and onto the radars of broadsheet press like The Guardian, The Times and The Independent.
The initial Myspace demo quickly attracted the attention from the labels, and most importantly Fiction's A&R man Gary Harris who quickly snapped the band up. He says, "The band had a very strong vision of the kind of album they wanted to create from the very beginning. Working together with the likes of Rob Ellis and Alan Moulder have helped forge what is an incredible debut."
The resulting Scarlet EP came out late last year, of which This Is Fake DIY said, "Their sound is comprised of a complicated hybrid of influences, pulling progressive, punk and shoegaze together, but it seems effortless."
What can we expect from 2:54's debut full length album? Gary explains, "The space and depth the band have managed to create is very subtle, with beautifully crafted guitar tones and vocal melodies you lose yourself in - it's a very addictive listen. I can understand the press comparisons to the likes of The XX and Warpaint, but 2:54 occupy their own corner, this is a genre defining body of work."
"Tracks like current single You're Early have an incredible groove to it; Creeping is one of the first tracks they wrote and a euphoric finisher - then a dreamy landscape such as Ride. I'm excited for people to hear it - the initial feedback UK and US has been overwhelming."
2:54's self-titled debut is out May 26
See 2:54 on the Artist Gateway.