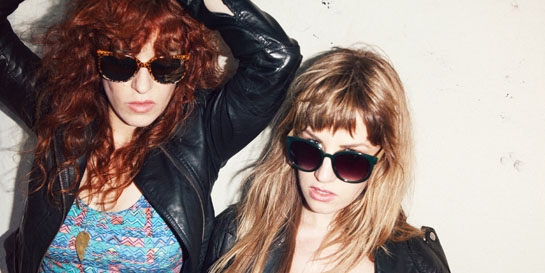 For fans of: Yeah Yeah Yeahs, The Black Keys, The White Stripes, Led Zeppelin
The Buzz: "Think a hippie Karen O fronting Black Sabbath and you're somewhere in the caustic, blues-riffing ballpark as these Los Angelinos. A hollerin', howlin', hell-raising duo." - NME.
Must hear: End Of The World
Lindsey Troy and Julie Edwards formed Deap Vally in 2011 after bonding over a love of music and, less predictably, needlework and crochet. Early demos and lo-fi videos of them performing quickly spread across the web.
Since starting the band they have played countless shows and have been on the road almost non-stop. US Tastemaker magazine Filter personally invited them to play their exclusive Coachella party and their sound caught the ears of Josh Homme who invited them to support Eagles Of Death Metal. It's been a busy summer in the UK too, with performances at Reading and Leeds, 1234 Festival and Latitude as well as three sold out London shows and their first UK Tour.
The Observer's Kitty Empire caught the band at a packed out Old Blue Last and said, "Singing guitarist Lindsey Troy yowls like a wildcat while coaxing heavy blues rock riffs out of her guitar. They are impossible not to love."
November is a busy month for the band, who embark on a UK tour supporting the Vaccines, including an Alexandra Palace date, shortly followed by a Japan trip and the Muse support tour in Europe.
Their first single on Island/Communion is 'End Of The World', debuted as Zane's Hottest Record In The World. The band also played a live set from Maida Vale as part of Radio 1 Rocks.
Island product manager Guillermo Ramos says, "The world has been waiting for a band like Deap Vally – an all-female, no-nonsense, authentic rock n roll outfit that first and foremost is a live tour-de-force. That's how they've won the fans they've got, and how they will continue to grow. How many bands can claim to have played with Sonic Youth, Dinosaur Jr, Soundgarden, The Vaccines and now Muse, all in their first year of touring? It's a hugely exciting project to be working on, and the sky is the limit with these girls for 2013. Having heard what's come out of their recording session last month, they are about to finish a tremendous debut album. Ones to watch, without a doubt."
End Of The World, out November 19, was produced and mixed by Lars Stalfors who is also working with the pair on their debut album released next year.