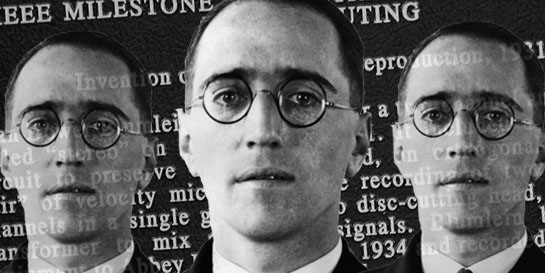 Alan Dower Blumlein is the largely unheralded genius behind stereo sound recording – among a bunch of other inventions - and the man we should all thank for making modern music sound as wonderful as it does.
Finally, the world has begun to appreciate the scale of Blumlein's achievements and his ground-breaking work was celebrated with the unveiling of a commemorative plaque at Abbey Road Studios last week.
The electronics engineer and inventor, who died during the Second World War aged just 38, worked at EMI's research lab in Hayes and logged over 120 patents (many co-written with EMI, which spawned the label of the same name, which is now part of Universal Music) in the space of 13 years covering key developments in stereo, TV and radar.
L – R: Howard Michel (President and CEO, IEEE), Alan Blumlein, Peter Cobbin (Director of Engineering, Abbey Road Studios), Isabel Garvey (Managing Director, Abbey Road Studios), Simon Blumlein.
His most famous patent – "improvements in and relating to sound transmission, sound recording and sound reproducing systems" – involved everything from the positioning of a pair of microphones to cutting equipment to record two channels into a single record groove and was lodged in December 1931. Blumlein called it binaural sound - now known simply as stereo.
Blumlein brought his microphones and stereo disc cutting head to Abbey Road Studios in 1934 to record the London Philharmonic Orchestra, laying the ground work for a raft of influential bands and pioneering producers who used the studios after him.
Later, Blumlein became a key member of EMI's TV department switching the BBC and Britain on to brand new media and a new way of life sat in front of the goggle box. Before he died in June 1942, when the bomber he was flying in crashed, Blumlein also took a lead in developing Britain's radar technology, which helped turn the tide of the war
Wednesday's unveiling event was attended by many of the people who worked with Blumlein and continued his work at EMI, as well as his son Simon and grandson also named Alan. Simon told the audience about how his father had climbed the BBC's Alexandra Palace broadcast tower in the early days of television to tinker with the picture, whilst on the telephone to his wife who would be watching at home
Blumlein's biographer Robert Alexander, who wrote The Inventor of Stereo, is in no doubt about the contribution the inventor made to life for everyone in the 20th and 21st centuries. "I have endeavoured to illuminate the name of Alan for a wider audience. The world needs to know more about this fascinating genius of a man," says Alexander.
Peter Cobbin, senior director of engineering, Abbey Road Studios, says "Here at Abbey Road Studios, we're immensely proud of our historical connection with Alan Blumlein and the small part we played in his pioneering development of stereo sound. Since that time, thousands of musicians have passed through our doors and all have benefited from the fruits of his vision and dedication. We are delighted to be the permanent site of a commemorative plaque, which will remind future generations of musicians, engineers and music lovers of his genius."