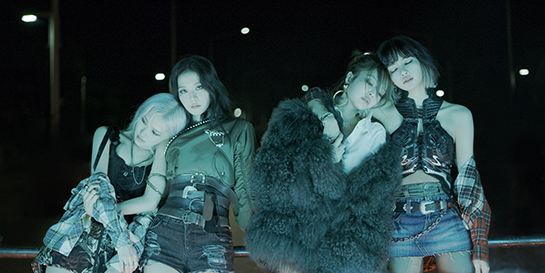 BLINKs assemble: Polydor are releasing one of the year's most anticipated pop albums today. THE ALBUM is the K-Pop quartet's debut LP, featuring hit singles Ice Cream and How You Like That, the latter of which broke five Guinness World Records, including the YouTube record for the most views in 24 hours (86.3m).
Polydor have been leading a digital-heavy marketing campaign for the record, with statement billboard sites launching across the country today, as well as a series of global virtual activations. The group have featured on a YouTube Released show, as well as on Apple Music's New Music Daily Live this week in the lead up to release.
BLACKPINK will premiere their widely anticipated Netflix documentary Light Up The Sky on October 14, which will give fans a rare access-all-areas insight into the band's inner workings, recording both the trials and the tribulations of their career, as well as all the pure joy that they experience. What's more, the world premiere of the music video for Lovesick Girls has also launched alongside the album, after the band shared teaser videos from each member on Instagram. There's no doubt that BLACKPINK have redefined the boundaries of fandom and genre, with all four of the members of the group becoming fashion icons in their own right.
K-Pop superstars BLACKPINK are no strangers to a collaboration; following the release of their hugely successful collaboration with labelmate Lady Gaga on her track Sour Candy and Selena Gomez's feature on Ice Cream, a poster detailing the tracklist was released, giving fans the news that a Cardi B feature was on the cards for THE ALBUM.
Jade Bradshaw, head of marketing at Polydor says, "BLACKPINK continue to prove to be an unstoppable force and I have no doubt that THE ALBUM will be huge success. We've been working on the campaign for some time, so we're extremely excited for the album to be released – personally I can't wait to see the fan reaction!"