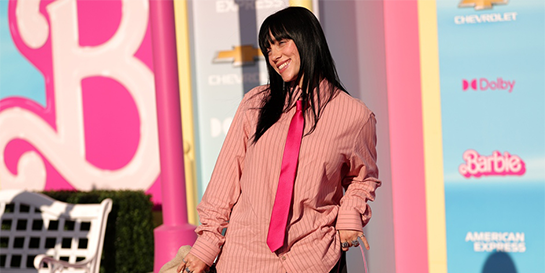 Polydor's Billie Eilish has joined the star-studded line-up for the soundtrack of Greta Gerwig's highly anticipated Barbie movie which landed in cinemas today.
Last Thursday, Oscar, Golden Globe, three-time BRIT, and multiple Grammy-winning Billie Eilish released What Was I Made For? composed for the film by Billie and brother Finneas who produced the track in his home-studio in LA.
A few days before the release, Billie took to socials to announce the collab, commenting "We made this song for Barbie, and it means the absolute world to me. This movie is gonna change your lives and hopefully the song will too. Get ready to sob."
On release day, Billie then expanded, talking more deeply about the track, "In January Greta showed me and Finneas a handful of some unfinished scenes from the film; we had nooooo idea what to expect at ALLL… we were so deeeeeply moved.. that the next day we were writing and COULDN'T shut up about it lolll andddddddddd ended up writing almost the entire song that night," she shared. "To be real with you this all seemed to happen in a time when I really needed it. I'm so so thankful for that."
The track was released alongside a video directed by Billie, and made its broadcast premiere on MTV Live, MTVU, MTV Biggest Pop and on the Paramount Times Square billboards. The official video in under a week garnered 10m views, 801k likes and 38k comments, while it sits at #4 on YouTube.
There's been no shortage of press coming in from Rolling Stone UK, Rolling Stone, Far Out Magazine, NME, Los Angeles Times, Teen Vogue, Daily Mail, Variety, Billboard, Pitchfork, The Line of Best Fit, Dork, The Independent, Under The Radar and more. With Rolling Stone stating this is Billie's "Sob-worthy contribution to the all-star Barbie soundtrack."
Ali Tant, Polydor head of marketing, says, "It's always a special moment for me when Billie releases new music. She is so inventive with her vision and the video for What Was I Made For? is one of the best videos I've seen in ages. To incorporate some of her most iconic looks into Barbie dresses was genius whilst also very nostalgic personally to remember where and when those looks came from. We're so lucky to work with Billie and Finneas, they don't miss! I can't wait for Billie's headline shows at Reading and Leeds next month."
Billie is one of many star names to feature on the Barbie soundtrack, alongside the likes of Karol G, Nicki Minaj, Ice Spice, Sam Smith and more with Sam's Man I Am, released today.
That's not all for Billie, as next month she returns to the UK for headline slots at Reading and Leeds festivals.