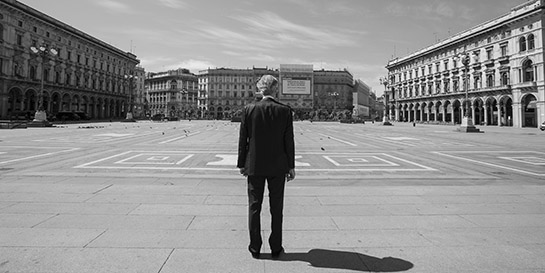 (Photo credit: Luca Rossetti, Courtesy Sugar SRL, Decca Records)
On Easter Sunday, Decca's Andrea Bocelli broke multiple records with an emotionally-charged solo performance, streamed exclusively live via YouTube from the Duomo in Milan.
The historic event reached over 2.8m peak concurrent viewers, making it one of the biggest musical live stream performances of all-time and the largest simultaneous audience for a classical live stream in YouTube history. The video received more than 28m views from across the globe in its first 24 hours, and even prior to the stream beginning, more than 1m viewers were present in the waiting room, in anticipation of the performance.
Behind the scenes, the performance was a remarkable technical feat to film and record the concert within the current restrictions, as well as the time pressure to make the audio and footage available for access immediately afterwards. The aim was to deliver an uplifting message of love, healing and hope to the public through music, at a time when it was most needed. The recording was then released digitally on audio streaming services within hours.
Laura Monks, co-MD at Decca says, "It has been such a privilege and honour to work with Andrea Bocelli on this historic moment that touched the hearts of so many people around the world. This event came together so quickly and in a haze of intensity that I don't think any of the team at Decca quite knew how much of an impact we could make. Then to see global news channels and headlines from Australia to India, Brazil to South Korea, the United States and Canada and of course at home, making a difference to millions of people globally, has been truly emotional and uplifting. So, thank you to all the teams within Universal Music who worked tirelessly on this with us at home and afar helping us show music can be a unifying force for good."
The performance has received widespread press coverage from the likes of BBC News, The Sun, The Guardian and many more with the Mail Online describing the performance as "Moving, mesmerising, magnificent!"
To date, the performance has been covered in over 100 countries worldwide and continues to trend globally across YouTube and social media platforms, while accumulating over 36m views in the process.