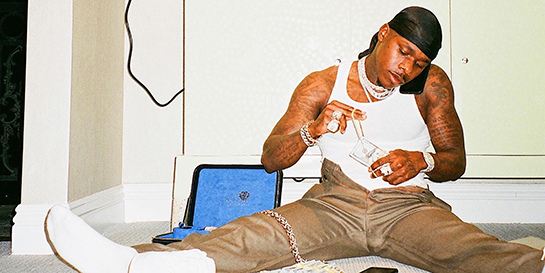 After helping to steer Interscope's DaBaby to his first UK Top 10 album at the beginning of May, the team at Polydor have kept their foot on the gas to guide the US rap sensation to his sixth week at number one with his certified gold single ROCKSTAR.
The campaign has been fuelled by Polydor's digital-first campaign which has harnessed DaBaby's huge momentum on TikTok. With 531m global streams, the single has also topped the US Billboard Hot 100 for two weeks and has held the number one spot on Apple Music UK and Spotify UK charts for over a month.
In response to the ongoing campaign against racial injustice, the Grammy-nominated artist also released a Black Lives Matter remix of the single on June 12 in which he recounts his own experiences as he looks to use his platform to enact change.
Before today's release of the official music video, the team had focussed their attention on creating assets based on user generated content while also repurposing DaBaby's IGTV video for the track.
The single appears on DaBaby's sophomore album Blame It On Baby which saw record-breaking success following its April release with over 1.1bn global streams as well as reaching number one on Billboard's Top 200 Albums, Top R&B/Hip Hop albums and Top Rap albums chart.
Polydor's marketing manager Jade Bradshaw says, "We were really pleased to land DaBaby's first UK number one single with ROCKSTAR but we're absolutely thrilled to now be celebrating six weeks at the top of the chart! I've worked DaBaby in the UK since Interscope signed him just over a year ago. In the early days he came into market, put the work in while charming everyone in the process – and it's absolutely paid off! His work rate and consistency are amazing, this number one is well deserved for DaBaby and the whole team."