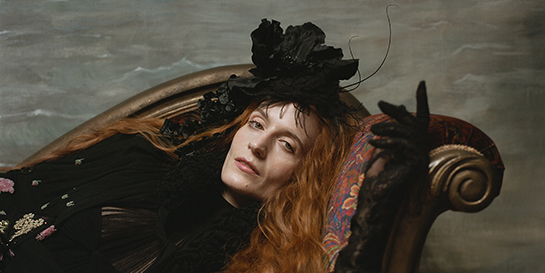 The wait for Florence + The Machine fans is finally over with the release of Dance Fever, Florence's fifth album, out today via Polydor.
Recorded in London over the course of the pandemic, the album creative is inspired by the image and concept of choreomania— a Renaissance phenomenon in which groups of people danced wildly to the point of exhaustion, collapse and death.
Following this theme, the album features already-released tracks My Love, Free, King and Heaven Is Here, all of which were accompanied by stunning videos from acclaimed director Autumn De Wilde. Polydor has also sent bespoke tarot cards to key industry contacts, influencers and fans which helped create a real buzz ahead of the release particularly on social media.
Meanwhile, in an industry first, the label partnered with Spotify to trial the platform's first pre-save campaign which allowed fans to access a countdown clock and a preview of the album's track listing.
The press reviews have been rolling in with a 4* review from NME and a 5* verdict from the Independent who declared the album "wonderful wildness from the most thrilling pop star of her generation".
Polydor head of marketing Karen Dagg says, "We are beyond excited for the release of this very special record from Florence + The Machine. Sonically Florence consistently continues to raise the bar, and the stunning accompanying visuals by Autumn de Wilde have created an exciting, immersive world for the fans to engage with."
After her three night run of intimate UK shows sold out within a minute, Florence + The Machine announced the Dance Fever Tour for November which includes two nights at The O2.