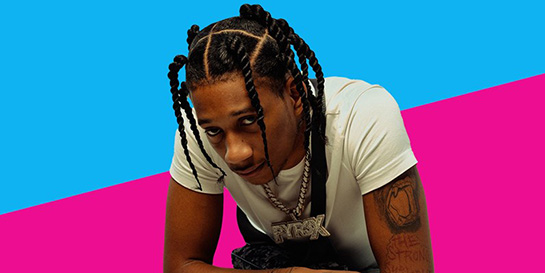 'No stone left unturned' has been the motto throughout and Virgin Music/EGA have truly delivered for West London rapper Digga D who secured his first number one mixtape on Friday with Noughty By Nature.
"The campaign has been a team effort from start to finish. To bring Digga from the viral sensation he was with Double Tap and Made In The Pyrex, through to the fully fledged, chart dominating artist he is today - while staying true to his personality and natural marketing ability - has been our aim", says Vanessa Bosåen, managing director of Virgin Music UK. "Working alongside Ali Neale and Guillermo Ramos, EGA have showed total dedication to the project. We went into this battle together and it feels like we're winning."
The mixtape artwork, a tongue-in-cheek take depicting the rapper through different stages of his life, proved a real talking point and a strong platform for the label to build on. The team launched a 12-page zine on release day which included a personal note from Digga and all six Digga characters. This was alongside a unique merch collab with premium fashion brand Benjart which included a limited edition Noughty By Nature hoodie and t-shirt.
While specialist radio have been on Digga for a while now, his profile across mainstream radio stations has grown throughout the campaign, which has allowed him to land some significant career firsts. Most notably at Radio 1, bagging his first A List record, first Hottest Record, first Tune Of The Weekend and first Tune Of The Week, as well as spot plays on BBC Radio 6 which indicates the breadth of appeal in the music. The mixtape has also been backed by a clean sweep on support from DSPs.
Building on the huge success and awareness created by the multi award-winning BBC documentary Defending Digga D, the team began to showcase different sides of Digga via more personality and music-led content, including a community giveback event in Digga's home of Ladbroke Grove, to the loud cultural moments of billboards across Times Square and out-of-home advertising across the UK.
Mercury Studios captured the cultural moment of Digga D's first live performance in their flagship digital series The Lead Up. This docuseries episode provided fans with a real, intimate look at Digga's experiences at his sold-out Kentish Town Forum show. An appearance on The Big Narstie Show at the end of 2021 has proved pivotal leading to more offers from comedy/entertainment formats, an arena where Digga truly shines.
Ali Neale, senior marketing manager at Virgin Music, says, "It's been a great honour to work across all Digga's mixtapes and getting to his third project is an incredible moment. Digga's new lease of life has been infectious to the campaign and the opportunity to work with him more closely than ever has allowed us to truly deliver on his vision as an independent artist and maverick. This feels evident through the campaign as not only did we set out to deliver his highest charting week one project and a record that continues to deliver volume and sales long-term, we wanted this to feel like one of the most creative and innovate campaigns of the year. The long-standing relationship with Colin and Charley at EGA and Digga's management has enabled us to put the best possible team around him to deliver on these goals."
Colin Batsa, EGA co-founder and president and lead consultant for Virgin Music UK says, "The tape is a classic, Digga D is a generational talent, management are geniuses and EGA alongside Virgin Music are a force to be reckoned with. We played to Digga's strengths and the creative has been immaculate which matches the music. Knowing that YouTube/Spotify/Apple/TikTok are his strongest platforms we focused a lot on them with content and they have supported us immensely. The Virgin sales team have been incredible, and the visual experience provided by Digga D and Groundworks has been exceptional. Also, a special shout out to Charley Snook (MD of EGA) and Ali Neale who have led this flawless campaign".