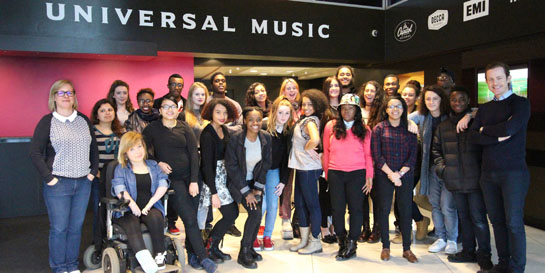 Come February, Universal Music will again be playing host to trainees from the East London Arts & Media school.
Next year is going to be a big one for the school - in May it will unleash its first crop of graduate trainees onto the music industry and by the end of the year it is hoping to move in to brand new state-of-the-art premises. Last year Universal Music – a founding partner of the school - was able to accommodate 30 of the school's first intake of trainees for two weeks of intensive hands on experience. They worked in a range of divisions and departments, including Abbey Road(link) and Universal Music Publishing. Trainees also learned on the job at a range of other companies including Beggars Banquet, Coda Music Agency, MAMA Group and Rinse FM.
Will Kennard, the school's founder and one half of Chase and Status, is looking forward to the experience being repeated around the time of The Brits next year.
This on-the-job experience is a critical phase of the two year teaching course at ELAM with Kennard keen to maximise opportunities to send students into the real world and also to bring the real world inside ELAM through masterclass sessions from industry executives: many of our team, Glyn Aikins, Nick Burgess, Clive Cawley, Jo Charrington, Morna Cook, Ben Mortimer and Benjamin Scarr among them, have already contributed to the school's learning on everything from A&R to marketing. "For a 16 year old who may never have left his borough because he can't afford to use the tube, to go into Universal and work at a label and sit in marketing meetings is unbelievable," says Kennard. "This is life changing stuff and we have seen huge differences with our trainees after these placements."
Kennard cites the example of one trainee last year who worked at Chase & Status' own recording studio, helping to record artists and set up instruments. "She was quiet to start with, but came out a very different person; very vocal and opinionated and she now wants to be a (recording) engineer. That has been amazing to see," he adds.
Similarly, the work placements aren't just meaningless altruistic exercises for the music companies taking part. Although, Kennard concedes that something like 90% of trainees start at ELAM wanting to be a singer, rapper or musician, the school is "just as interested in finding the next David Joseph or top class A&R executive as the next Adele". He adds, "What the music business needs is a workforce diverse enough to take forward the creative economy and the industry needs young, well trained talent to come out of ELAM for the next generation's executives. It is in both our interests than this is a two way relationship."
As part of the two way relationship, ELAM is also constantly on the look out for new mentors to sign up on its website and offer help to "shape and support" each student. "The music business world can be alien to a lot of trainees, but having a professional mentor who meets each trainee regular can be an amazing way for the student to make sense of it. The mentor isn't a teacher or parent or guardian, but a sounding board for someone who is often struggling about life," Kennard explains.
To help ELAM achieve much of this, work has recently started on a new purpose built building in Bromley-by-Bow. This will incorporate six recording studios, live rooms, film and TV studios, a number of mini suites with up to 40 iMacs in each and a performance theatre, which will have a seating capacity for around 400 people to watch the trainees put on shows.
The school currently arms its 16- to 19-year-old students with a Level 3 BTEC Extended Diploma in Music with English and Maths to A level standard. Significantly, once the new school has been built - it is expected to be finished in autumn next year - it will be able to accommodate 300 students and also offer a new digital arts course for half of them alongside the existing music qualification. "These subjects both complement each other and I think with this will mean there will be such a huge potential for the arts and music in east London," adds Kennard.