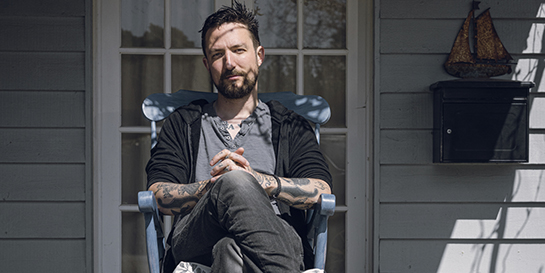 Polydor's singer-songwriter Frank Turner has today released his highly anticipated album FTHC, which stands for Frank Turner Hardcore, the follow up to No Man's Land which landed a Top 3 chart spot in 2019.
Over the past few days, Frank has been sharing track teasers exclusively on TikTok and YouTube Shorts and later tonight will be going live for a special Q&A and fan performance on YouTube. In support of the release Frank has a full out store tour across the country planned, with promo highlights including an ITV News appearance on Monday evening and press features with The Sunday Times Magazine and The Independent, with the latter already giving the record a fantastic 4* review.
Karen Dagg, Polydor head of marketing says, "It's testament to Frank's incredible dedication and work ethic that on his ninth album he remains in contention at the top of the UK album charts. He's been such an advocate for the live music world during the pandemic and it's great to see him both back on the road and releasing new music."
Frank will follow the release by playing two runs of intimate launch shows, hosted in conjunction with a selection of independent record stores across the UK. The first wave of tickets for the shows sold out immediately and Frank has since announced he will be doing an earlier evening performance at each of the dates.