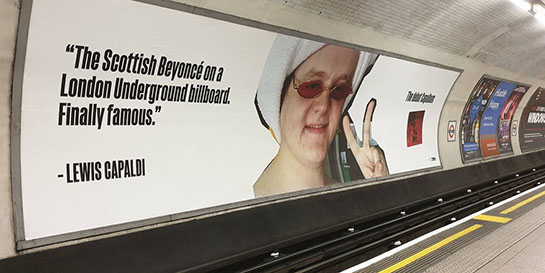 Following chart-topping success with his single Someone You Loved, Virgin EMI's Lewis Capaldi has done it again after emphatically securing the top spot on the Official Albums Chart with Divinely Uninspired To A Hellish Extent. In doing so, the album outsold the rest of the Top 10 combined.
As well as becoming the fastest selling debut of 2019 - a record previously held by Billie Eilish for her number one album When We All Fall Asleep, Where Do We Go? - it is also the most streamed British debut album of all time.
Arguably the standout moment of the campaign was the release of a range of billboards across the London Underground network, with the most infamous declaring "The Scottish Beyoncé on a London Billboard. Finally famous."
True to the anarchic form of Lewis' engaging social media posts, he launched an unpolished TV ad which saw him refer to the fact that all of his songs are about girls leaving him. A partnership with Spotify also saw a bespoke version run in a nationwide cinema campaign whilst YouTube Music have taken over the Piccadilly Circus digital billboard for six days with footage from the Grace video of Lewis pole dancing. Virgin EMI's work to grow Lewis' socials has paid dividends - his Instagram account alone has seen a 48% rise in followers in just 28 days, helping him surpass the 2m mark. This came after a social media frenzy over the weekend after fans called for Lewis to narrate/appear as a contestant on this year's Love Island.
The label have honed in on Lewis' exceptional ability to connect directly by arranging a series of in-stores this week including Rough Trade Bristol, Rough Trade East London and Banquet Kingston yesterday.
Virgin EMI marketing manager Connie Meade says, "Lewis Capaldi is challenging the social and cultural norms of what it is to be an international pop star. This year, Lewis has sold out a UK arena tour including two Wembley Arena dates, before releasing his number one debut album Divinely Uninspired To A Hellish Extent, the biggest selling week one of 2019, beating Ariana Grande and the week one sales of Adele's 19.
"His seven-week number one single Someone You Loved is this year's biggest selling single, and he has achieved this while residing at his parents' house in Bathgate, creating content around his toilet habits, and retaining his genuine down-to-earth demeanor that has made him an internet sensation."