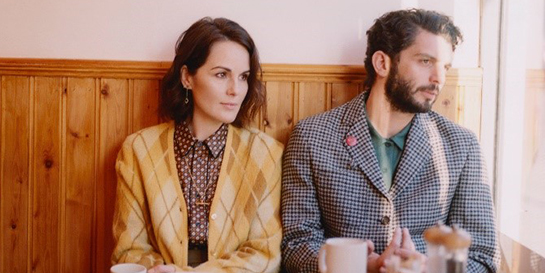 Decca have this week announced the signing of Downton Abbey actors Michael Fox and Michelle Dockery who released their debut single, Calming Storm, on Wednesday.
The pair first met many years ago on set where they starred as characters Andrew Parker and Lady Mary Crawley. It was there they started playing casual jams in between filming which eventually led to them writing songs together. Up until now their singing talent has been relatively unknown to the public, but that's all set to change after being discovered by chance after performing at a small charity event in 2019 at the Kiln Theatre where Decca A&Rs were in attendance.
For the announcement, the duo wanted a timeless creative with touches of nostalgia, a theme which will run throughout the campaign, best exemplified by the decision to do the shoot in a London greasy spoon café, a personal favourite of the duo. The label are currently putting together a comprehensive promo and marketing campaign ahead of the pair's debut EP, The Watching Silence, which is set for release on May 13.
Jenni Champion, Decca campaign manager says, "We are so incredibly thrilled to finally be able to announce that Michael and Michelle have joined the Decca roster. Everyone who hears what the duo have created instantly falls in love with their writing, musicality, and authenticity. It would be a shame to keep them a secret any longer! This is a really exciting partnership and we're really looking forward for what's to come.
"With the upcoming Downton movie, the duo are keen to keep this all about the music, as actors they rarely get to be themselves, so this is an opportunity for them to finally perform as themselves. So everything we put out will be completely authentic to Michael and Michelle".