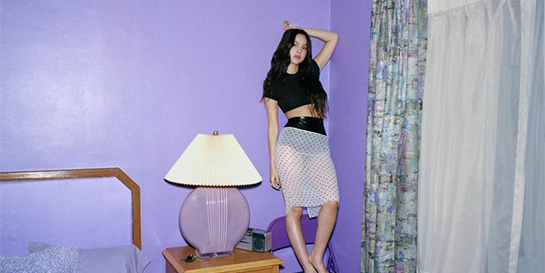 Fresh off the back of her chart-topping single Vampire, Polydor are looking forward to another big week in the charts with Olivia Rodrigo's second album GUTS, following its release on Friday.
Anticipation for the album has been building since it was announced back in June, with the Brit and Grammy-winning, multi-platinum-selling, critically acclaimed singer-songwriter taking to socials to share clips that teased the song titles. Videos posted were filled with clues for fans to solve, featuring hidden words and phrases in the post, including words Olivia was filmed writing on a typewriter. After leaving fans guessing, on August 1 Olivia confirmed the track list with an Instagram post that garnered over 3.2m likes and close to 10k comments. Fans have been able to pre-order GUTS on CD, cassette, vinyl, and limited-edition box sets exclusively at Olivia's online store, with vinyl offered in four D2C exclusive colours: red, white, blue, and purple.
Following the album announcement, GUTS' lead single Vampire was released alongside a video created by long-time collaborator Petra Collins. The single quickly became her top debut across Spotify, Apple Music and more, while also becoming her top debut at radio, alongside a number one on the Billboard Hot 100. Vampire became Olivia's third UK number one, following her chart-topping success with Drivers License and Good 4 U.
GUTS' second single, Bad Idea Right?, released last month, was named as Best New Track by Pitchfork, who hailed the song as "one of the best pop performances of the year", and drew reviews from the likes of Rolling Stone, who called it a "sugary headbanger", while the New York Times praised the track as a "bright, kaleidoscopic head-rush of a pop song". The paper went on to praise the album, declaring "Olivia Rodrigo, pop's brightest new hope, just may be a rock star" in a recent feature.
To celebrate the arrival of GUTS on Friday, Olivia shared a live performance video for its opening track All American Bitch, produced by her frequent collaborator Daniel Nigro and partly created at the Electric Lady Studios in New York City.
The album arrives as Olivia prepares for her performance at the MTV VMAs which will air later today. Vampire has received six nominations, including Video of the Year, Song of the Year, Best Pop, Best Cinematography, Best Editing and Song of the Summer. Petra Collins previously earned a GRAMMY nomination for her work on the video for Good 4 U and directed the videos for her 2x Platinum Brutal and Bad Idea Right?
Polydor head of marketing Ali Tant, says, "Following the huge success of Olivia's breakout debut SOUR, there is a high bar set, but GUTS goes there and beyond. It's been a huge amount of fun working on this campaign, Olivia came over last month for promo and to meet fans and threw herself into turning London purple. I've said it before but we're very lucky to work with Olivia. GUTS is a brilliant, brilliant album."
Recently being recognised with a BRIT Billion award for UK streaming consumption, Olivia has become the female solo artist with the most UK number one singles this decade.