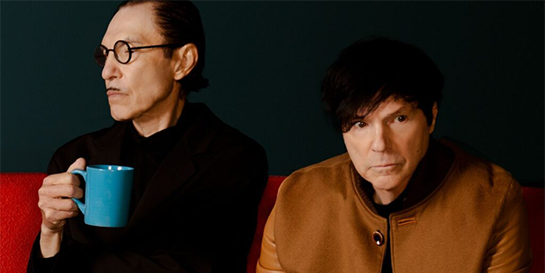 It's been two weeks since Island's Sparks secured a Top 10 position with their 26th studio album, The Girl Is Crying In Her Latte, marking their first release with Island in almost 50 years following their breakthrough 1974 album, Kimono My House.
Fresh off the back of Edgar Wright's highly acclaimed 2021 documentary, The Sparks Brothers, and the band's 2021 award-winning musical, Annette, the band took to socials to announce the new album and the biggest worldwide tour of their career.
Sparks have continued to hold a loyal and growing fanbase with over 1m new fans coming to visit and find their platforms every year. In order to excite and engage these fans, Island created bespoke assets, including the music video for The Girl Is Crying In Her Late, feature Cate Blanchett, who took time out of her Oscars promo cycle to film. The video now holds close to 950k views, while #BehindTheSong content caught on to the TikTok algorithm and sits with 413k views and over 600k Instagram reel views.
Social growth for the band is also still on the rise with a 55% TikTok fan increase, and 10% rise on YouTube and Instagram, with 1m impressions delivered to their Instagram accounts during peak times during the campaign. Meanwhile, the campaign ad spend focused on targeting these new fans and delivered great results, with Amazon showing a return spend of £21.19 for every £1 spent.
Merchandise and release formats include CDs, picture disc LPs, clear vinyl and standard LPs, t-shirts and travel coffee mugs, playing on the album title.
There's been across-the-board rave print reviews from the likes of NME and The Line Of Best Fit, who both awarded the album 4*, as well as press from Pitchfork, The Guardian, Clash, with the latter stating that the album is "an exceptional record, a witty and imaginative pop feast." Meanwhile, Record Collector awarded the album a 5* review and stated the record is a "Bona fide masterpiece".
Steve Pitron, Island SVP, says, "People often throw the word 'legend' around when referring to artists who are still making music decades into their career, but Sparks are genuine legends. The chart success of The Girl Is Crying In Her Latte, the incredible sell-out shows, and the creative brilliance they have poured into this album is further proof that Sparks are one of the most original, ground-breaking and joyous groups in pop history. Their longevity is due, in no small part, to their ability to constantly reinvent themselves and it has been amazing to have them back at Island and back on such a creative high, almost 50 years after they first signed."
Spark's 2023 tour kicked off in Oxford on May 23 and has seen the band perform in Liverpool, Glasgow, Manchester, London, Barcelona, Madrid, and Porto already, with plenty more shows to come in Glastonbury, Paris, Copenhagen, New York, Toronto, LA, and more, before finishing off in Tokyo on July 25.