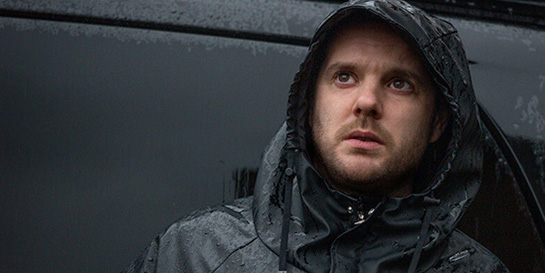 With a ground-breaking series of drive-in shows still to come, ambitions are high for today's release of The Street's first album in nearly a decade following Island's signing of Mike Skinner in February this year.
None Of Us Are Getting Out Of This Alive features a range of collaborators including Grammy-nominated Tame Impala, Ms Banks, Jimothy Lacoste and Idles, all helping the album stake a claim to being The Streets' most eclectic record to date.
Over the past few months Island have been plotting a widespread marketing campaign with a focus on engaging both core fans of The Streets and finding new ones, a strategy which resulted in a spike in pre-orders.
From the outset, the label were keen to capitalise on the strong brand identity of The Streets, with Mike's gold necklace a constant presence in the visual strategy and serving as a popular Instagram filter.
With lockdown well underway as the campaign begun to rollout, the team were quick to arrange a series of online moments including Mike doing the first Zoom episode of Amelia Dimoldenberg's popular Chicken Shop Date series as well taking part in a Gasworks interview with Poet and Alhan Gençay. A particular highlight of the campaign was the Lockdown Your Aerial online event at the end of May which included a series of activations across social media including the How To Make A Mixtape Vice documentary on YouTube before Mike headed to Instagram for a live Q&A and after-party.
The promo team also delivered a number of key moments during the campaign, starting in April when the first single, Call My Phone Thinking I'm Doing Nothing Better, launched via Annie Mac's Hottest Record on Radio 1 - The Streets' first new track in 10 years on the station. Tomorrow Mike will be appearing on Sky News with a series of radio moments lined up for the week ahead including Nick Grimshaw on Radio 1, DJ Target on 1Xtra and Nihal Arthanayake on 5Live.
Island marketing manager Amy Collins says, "It's been absolute honour, and plenty of mad moments, driving Mike Skinner and The Streets alongside Johnny Brocklehurst. Outside of going a toxic red after first meeting Mike whilst he soaked Louis's office in champagne, I believe I've managed to hold my cool (probably not). The passion and enthusiasm from the core team has been second to none - this has been demonstrated in the fantastic results delivered by each area. We are all hugely energised and determined to achieve the week one result justified by the past five months' hard work – and those reading know what that position is!"
The Streets are also set to become one of the first acts to perform a drive-in tour in the UK which will see Mike and his band take to the stage for a full concert production at 12 locations throughout July and August.