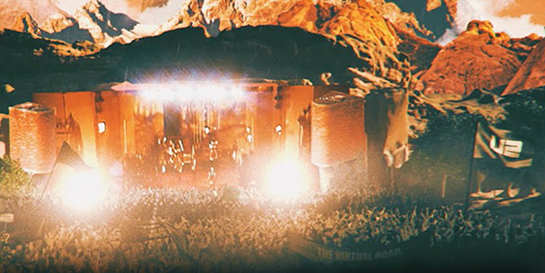 Kicking off suitably on St Patrick's Day with the 2001 Live From Slane Castle show, the team at Island are screening a series of four archival U2 concerts on YouTube in a first of its kind global virtual tour, with each show available for 48 hours only.
Spanning four decades of U2, the tour provides a nostalgic treat for long standing fans, as well as a perfect introduction to the band. Following the U2 Go Home show broadcast on March 17, yesterday saw the launch of the band's 1983 performance from Red Rocks, Denver. Still to come are 1997's Popmart: Live From Mexico City next Thursday (April 1) and 2015's iNNOCENCE + eXPERIENCE: Live in Paris on April 10. Three of the four concerts in the series – Slane Castle plus Red Rocks and in Mexico City – have never previously been available digitally.
Island have worked collaboratively with YouTube throughout the virtual tour, which follows the relaunch of the band's YouTube channel back in September. The virtual tour has been "eventised" and includes interviews with the band, exclusive behind the scenes content and new-to-platform promo videos, as well as exclusive performances by four support acts, who have been strategically picked to tap into each market visited.
The team picked Dermot Kennedy as support for the Ireland show, Mexico's show is with Mexican singer Carla Morrison who has 4.4m YouTube subscribers, French band Feu! Chatterton will support for Paris while punky Dublin outfit Fontaines D.C. performed ahead of the US Red Rocks Amphitheatre showing, reflecting the ethos and sound of early U2.
The online viewing experience is seamless between the pre-show and performance videos, with an automatic roll-on becoming standard best-practice for a livestream YouTube event. There is also limited edition merch on sale only for the duration of each show, to help the team make the event feel as special as possible for fans. To further amplify the activity, each show is accompanied by the release of a four track thematic artist compilation EP.
YouTube's support for the tour includes multi-territory OOH support, a U2 Virtual Tour shelf within the YouTube Music app, on-platform support on YouTube.com and global PR support. In terms of metrics, the pre-show for the first event saw 20,000 concurrent viewers, with the show itself welcoming 24,000 – well ahead of the 15-20K normally seen for YouTube's best performing livestream shows. Over 43,000 subscriptions have been added to U2's channel and in the two days following the first show it had received over 600,000 views.
Sam Lunn, head of campaign strategy at Island says, "Livestreams of pre-existing shows have become commonplace throughout the last 12 months, so the challenge here lay in eventising a simple premise to the extent that it felt like something more. How can some of the excitement of a live tour be taken to someone's living room? With the support acts, access to the band and all of the other ancillary elements around The Virtual Road, I feel like we've met the challenge, and now it's about continuing the momentum!''