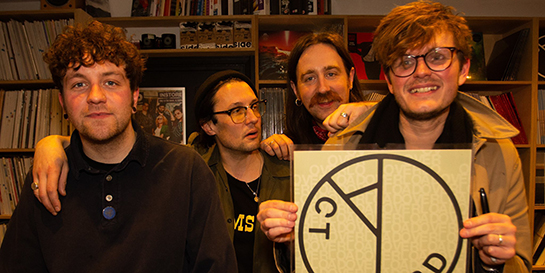 Island's Yard Act, a rock band hailing from Leeds, are gaining plaudits left, right and centre with their debut album The Overload.
The album, which has been at the centre of a fascinating chart battle with Polydor's Years & Years, has received universally positive press coverage following last week's NME cover with 5* reviews from The Times, DIY, Dork, and Rolling Stone with the latter declaring, "on their brilliant debut album, Yard Act prove to be the perfect chroniclers for our turbulent times".
Building on the band's strong northern roots, the label's marketing has had a regional focus which has included several key outdoor sites as well as a series of in stores across the country. Working closely with key indie stores, the team released a series of limited edition formats included coloured vinyl. Rough Trade named the record their album of the month with the band playing at Rough Trade East last Friday to celebrate.
The record has had no shortage of backing from DSPs with Spotify playlists including New Music Friday, the cover of The Punk List and Melomania. Apple and Amazon also came to the party with comprehensive playlisting as did Deezer and Tidal.
Promo support has included Tuesday's live session on Radio 1 with Jack Saunders while the record was also named BBC 6 Music's album of the day after the station placed several tracks on their A-List. The band also made the BBC Sound Of 2022 longlist, which was announced in December, giving them a perfect platform to kick off 2022.
Sam Flynn, Island senior marketing manager, says, "We signed Yard Act in the Summer 2021 and they were already putting the finishing touches on their debut album. We quickly announced the record with first single The Overload. it's been truly amazing to see how well tastemakers and the public alike have taken to them.
"Tickets to their upcoming shows are becoming scarce which has helped us really make a big event out of the album's release culminating in a chart battle for number one this week against pop titan Years & Years! It has been such an honour and privilege to help the guys create their worlds. James Smith, lead singer is a such an incredible force. I truly believe he is one of the great new songwriters. His lyrics create such vivid scenes".