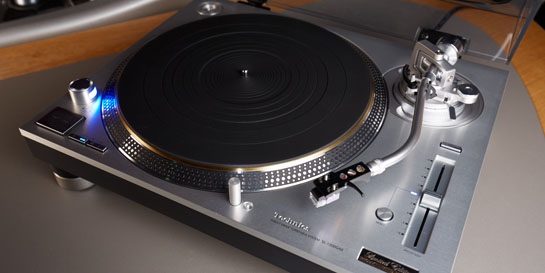 Abbey Road Studios and Technics are proud to announce a two year brand alliance starting in June 2016. The Studios will host the highly anticipated redesigned versions of the Technics SL-1200 turntables in the mastering studios and restaurant, for use by artists, engineers and visitors alike.
The 50th anniversary limited edition Grand Class SL-1200GAE and non-limited Grand Class SL-1200G turntable have been developed for audiophiles looking to rediscover and experience the uniquely warm sound quality of vinyl. The SL-1200GAE turntable will be released this summer in a limited run of 1200 units globally. Following that a non-limited edition Grand Class 1200G will appear Autumn 2016.
Abbey Road Studios are delighted to partner with Technics - an equally iconic and globally celebrated music brand. Both committed perfectionists in creating unrivalled standards of audio fidelity, the brand partnership is timed perfectly to coincide with the continuing success of the Studios' Half Speed vinyl mastering service, the redesign and reappraisal of the Technics turntables in their 50th year, and the continued growth of vinyl.
Isabel Garvey, MD of Abbey Road Studios said: "This partnership is exciting for Abbey Road Studios as we recognize the resurgence of vinyl in the music industry and significance of our vinyl cutting business. We look forward to bringing this partnership to life with the expertise of our mastering engineers and a brand that is at the forefront of quality audio-fidelity sound."
Geoff Pesche, Abbey Road senior mastering engineer said, "I recently had a demo of the new Technics SL1200GAE in Mastering Room 5. Beautifully crafted, with a heavy platter I've not seen before in a domestic turntable, it tracked everything seamlessly. This is a benchmark turntable for the 21st Century."
Andrew Denham, MD of Panasonic UK & Ireland said, "Since relaunching the Technics brand in the UK we've received a positive reaction from both previous and newfound Technics fans. To celebrate the brand's 50th Anniversary we are really pleased to see the return of the direct drive turntable and now excited to be able to cement our dedication to delivering outstanding musical experiences with out new partnership with Abbey Road Studios. Together we hope to deliver uncompromising sound quality and a premium user experience for the true audiophile and music fan."