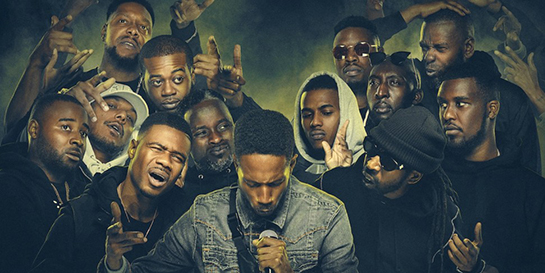 The first project since Motown UK launched in September, the EP soundtrack for the noughties grime celebration Against All Odds is out today, boasting a who's-who of the UK grime scene, with the film set for release next Friday.
Written and directed by legendary British directors, actors and grime pioneers Femi Oyeniran and Nicky 'Slimting' Walker, Against All Odds is the first scripted film about the beloved British genre. A nostalgic narrative charting the rise of grime in the UK, the film and soundtrack pay homage to Black British music heritage from the very beginning of the generation-defining genre.
Set against a backdrop of pivotal moments within the grime story, the film brings history together with the future, as the all-star cast fuses both emerging actors with the grime trailblazers who laid the foundations of the genre, from D Double E, Ghetts, Jammer, Diesel, Maxwell D, Ozzie B and Bruza, to Grime Gran and many more. These grime legends appear as themselves in the movie with the exception of J2K, who plays a leading role as Guv. The narrative follows MC Active, played by Nico Tyler James, as he tries to make it within the emerging UK Grime music scene of the early noughties.
To celebrate the early days of grime, the Motown team are bringing back the classic grime go-to Channel U, which will go live on its original satellite channel 373 and streamed live on Link Up TV. Motown UK will premiere the Against All Odds film in full, alongside six full hours of programming, including the return of Ace & Vis's iconic iLLout Show, new live performances, interviews, a selection of old school grime videos plus fan favourite Asqueezy aka Arnold Jorge.
Motown Records UK marketing director Afryea Henry-Fontaine says, "This is officially Motown UK's first release, and I'm incredibly proud of what we delivered. Rob (Pascoe, MD) and I have been working on the project for over a year now, and as part of the campaign, we are breathing life back into Channel U, which was a mecca for Black British music before a lot of the platforms that we see today. To be able to bring that back for a six hour takeover is super exciting, and we're really proud to be able to do that. Myself and Rob, alongside Femi and Nicky have executive produced the content that will roll out next Friday: it really feels like a special moment and we've got some incredible content for everybody to see. We're super proud of what we've been able to pull together."
Amongst many other things, the team are bringing back The iLLout Show hosted by Ace and Vis, plus they're airing performances from the likes of D Double E who'll perform his new track from the soundtrack Likkle Fish as well as celebrated track Frontline, plus Maxwell D, Flowdan and Jammer will also take to the stage.
Motown's first single release from the soundtrack was the rework of Maxwell D's 2001 grime classic Serious, having enlisted huge names within the scene such as Capo Lee, Novelist, So Large, Bruza and Tempa T to unleash Serious 2020. On Tuesday night, the second single dropped in the form of D Double E's Likkle Fish, which was premiered by DJ Target on 1Xtra, while GRM Daily premiered the video.
Gearing up for today's release, the team have launched a full outdoor billboard campaign celebrating grime lyrics, spearheaded by EMI's artist content creative Mauro Borges. Featuring words from Ghetts, D Double E and Jammer, they've also included a quote from MP Matt Hancock on his apparent love for grime music. They've also teamed up with the OCC to celebrate the growth of grime and UK rap albums over the last year.
Against All Odds has had strong support from press across the board, with the likes of The Guardian, Press Association, Forbes, Complex, Dazed, MixMag, Pitchfork, NME covering the project. "It feels like everybody's super excited and engaged, and ready to support this project," adds Afryea. The team at Motown have also collaborated with Spotify to organise an A-List Against All Odds takeover of Spotify's biggest grime playlist, Grime Shutdown, which will launch on release day, plus bespoke content with Amazon's +44 brand and much more.
Speaking about the first chapter in Motown UK's story, Afryea continues: "Motown was founded on black entrepreneurship with Berry Gordy, creating a home for exceptional talent out of Detroit and beyond. Femi and Nicky themselves are successful black entrepreneurs plus film and video directors who have delivered culture defining content over the last few years. To be able to partner with them on our first Motown UK release just feels like the stars aligned.
"I've known Femi for a really long time, and obviously Nicky being a pioneer of the grime era, it's just, perfect. They have A&R'd an EP that really brought together some of the best; both old and new school, and just really got behind this project and delivered us a fantastic EP. I'd love to give a massive shoutout to Steve Kelly, senior director of innovation and technology, Helen Kennedy, senior creative strategist and Jade Bradshaw, head of marketing at Polydor for her insight on the Channel U era, and of course the whole Motown UK team, who have gone above and beyond on this release; Seun and Knacai – thank you."
Really tapping into the old-school, nostalgia vibe through taking over the Clubland channel (Sky Channel 373, Virgin channel 345), Channel U will go live at 7pm on November 20 and will also be streamed live via Link Up TV. The Against All Odds EP soundtrack is out now.