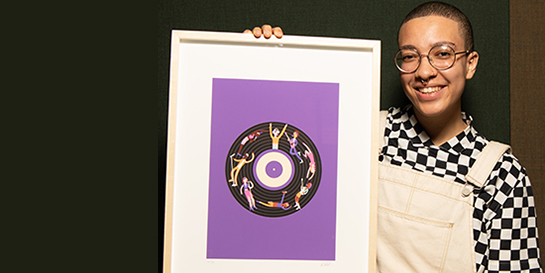 Universal Music have revealed an exciting collaboration with 21-year-old visual artist and Central Saint Martins student Ashton Attzs ahead of next week's BRIT Awards.
As part of the commission, which was announced in the Evening Standard, Attzs has created a series of special edition prints titled Turn Heads and Turntables, and the exclusive invitation for the annual Universal Music BRITs after-party, #UmusicBRITs, which celebrates one of the most significant nights in the global music industry calendar. Their unique designs will also feature at the party itself.
Attzs took inspiration from our recently published handbook on embracing neurodiversity in the creative industries and gave the figures in the artwork unique and different coloured brains.
Speaking about the collaboration Attzs says, "I honestly don't think any words could truly express how completely over the moon and honoured I am to be collaborating with Universal Music. Each and every step of this creative process has been phenomenal and unbelievably exciting. I just can't stop smiling. Pairing the orbital lines and shining stars of the galactic party with the spinning grooves of the iconic vinyl: the artwork honours the power of uniqueness and musical excellence. I created Turn Heads and Turntables as a celebration of the artists who bring something to our lives but also as an ode to the gravitational pull that music has on us all."
Our director of events and artist relations Claire Haffenden says, "Working with Ashton has been a real joy. Our hope with this, our second collaboration with a visual artist after Yinka Ilori last year, was to embrace the essence of what our party is all about – a night of celebration with our artists, friends and family. The partnership with Ashton has been so natural, their work screams happiness and is a true celebration of diversity".
Commissioned by the likes of Instagram, Facebook, Adidas, Tottenham Hotspur FC and Disney, Attzs won the coveted Evening Standard Art Prize 2018 for their painting of transgender swimmers, 'Don't Stay In Ya Lane'.