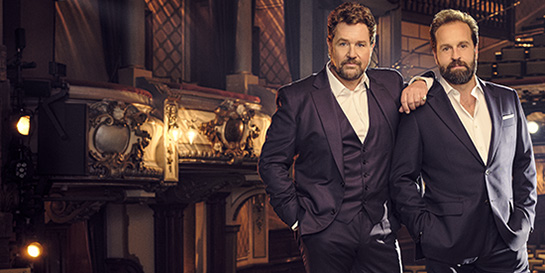 Decca's ultimate musical duo, Michael Ball and Alfie Boe are Back Together and heading for a top three chart finish with their latest album which was released last Friday.
Decca's junior campaign manager Jenni Champion says, "The greatest showmen have returned! Back Together is everything you would expect and so much more from Ball and Boe – full of huge, dramatic notes and singalong anthems. They have such a captive and engaged audience, it's no surprise the duo sold over a million records in two years. Working with Michael and Alfie is always a lot of fun and this album was no different – there's never a dull moment with them and they always have everyone around them laughing."
The label flew the boys to the south of France where they swapped the stage for the sun to shoot a bespoke mini-series for Facebook which gave a unique insight into Ball and Boe's personality with an array of behind the scenes content. They also activated a messenger bot on the platform which has been teasing exclusive and personalised content to an ever-growing audience.
In a first for the duo, Decca also provided fans who pre-ordered the album special access to a pre-sale of the 2020 arena tour which includes a date at London's O2 Arena on March 7.
Back Together follows the remarkable success of the duo's previous two albums. Their chart-topping debut release Together became the UK's best-selling album of 2016 while the follow-up Together Again delivered a second number one album in 2017. The pair have sold over 1m albums in the UK and received two Classic Brit Awards.