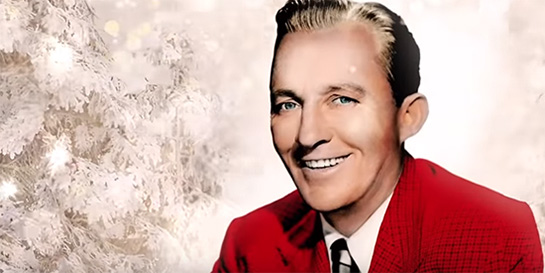 The team at Decca are dreaming of a White Christmas following the announcement of Bing At Christmas, an orchestral album of festive classics set for release on November 22.
This Monday saw Bing's long-time record label come together with his widow Kathryn and their children, Harry, Mary and Nathaniel Crosby, to announce the album's release on the anniversary of his death in 1977.
Bing's distinctive original vocals are set to newly-recorded orchestral arrangements performed by The London Symphony Orchestra on an album that is set to breathe new life into the best Christmas songs in existence.
Decca general manager Laura Monks says, "We are absolutely thrilled to be bringing new life to these iconic songs. It's special to have the blessing of his children and the Crosby estate working alongside us. Bing Crosby is Christmas and we intend to bring families together this year with a warm hug from his synonymous voice and the London Symphony Orchestra. DECCA the halls. Only 68 days to go!"
Decca have curated an action-packed marketing campaign ahead of the release with TV, radio and print advertising running throughout the month. They've also secured a coveted collaboration with London buses which will see five vehicles receiving a makeover with LED lights. The digital team have also created an Instagram filter and cinemographs for each track on the album.
The campaign will see excerpts from recently filmed interviews with the family rolled out weekly in the run up to the release date. As well as being interviewed by the Daily Mail, Bing's daughter Mary will appear on The One Show and BBC Breakfast in early December alongside her brother Harry.
Bing's White Christmas is the world's best-selling single with 50m sales and has racked up over 1.8bn streams.