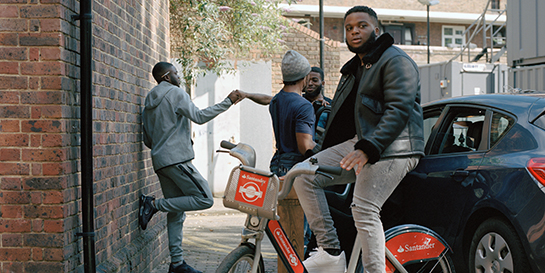 As total streams eclipse 10m, Polydor's Blanco is in prime position to make the crossover from underground trailblazer to mainstream drill hero.
The young Kennington-based drill rapper is steadily making a name for himself after rising to prominence with key UK drill group Harlem Spartans. Known for his effortless flow and creative versatility, Blanco is now becoming a familiar face on Spotify's lauded Rap UK playlist, with his current half a million monthly listeners and fans growing wider with each release.
Throughout recent campaigns, Polydor have utilised digital activations such as snapchat filters and lenses to bring his artwork to life, as well as creating an influencer strategy which saw Blanco enter into the worlds of football, comedy and fashion as well as further solidifying his name in the emerging music scene. The team have also secured numerous outdoor activations including billboards and screens to spread the word. On latest single Anakin released earlier this month, Blanco worked with Manchester's LiTek (Aitch, Mastermind, OFB), resulting in a track peppered with Brazilian-inflected horns and production, which was premiered on GRM Daily alongside the track's reflective visuals.
Blanco is no stranger to key industry tastemakers, having won over the likes of Complex, Link Up TV, Kenny Allstar and Charlie Sloth, and it's clear this is just the beginning as Polydor's junior marketing and A&R manager George Quann-Barnett elaborates, "Blanco is beginning to solidify himself as a true visionary in the new generations of rappers and musicians emerging in the UK, so much so that he is starting to become people's favourite rapper's favourite rapper. Blanco is truly in his own lane, and has carved out his own sound since his early releases on Polydor Records right through to his recent release of Anakin. Blanco is still regarded as one of the figureheads in the drill scene and has a bright future ahead of him in whichever genre he decides to lead."