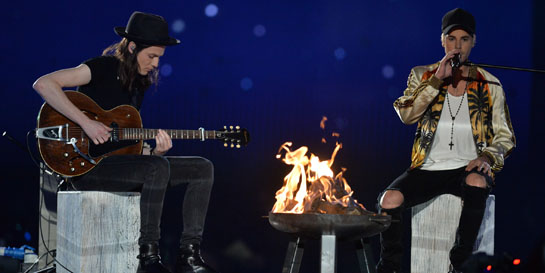 The 2016 Brit Awards proved a sensational night for Universal Music, featuring stand-out performances from our artists and comfortably the biggest share of winners.
Virgin EMI took home two awards on the night for James Bay (British Male) and Justin Bieber (International Male Solo Artist) with the two artists sharing the stage for an acoustic performance of Justin's Love Yourself before heading off for their individual performances.
For 2016, the Critics' Choice honour went to Island's Jack Garrett who performed at the Brits After Party for broadcast on ITV2. Island also won the British Breakthrough category with Catfish & The Bottlemen.
Australian rock band Tame Impala have been steadily gathering a worldwide following since forming in 2007. In 2012 they received a Grammy nomination but went one better at the Brits by winning the International Group category and making it a big night for their UK label Fiction.
Overall, Universal Music artists won five of the 13 awards on offer.
It was a busy night for the TV teams at Island and Virgin EMI, with performances from The Weeknd and Rihanna also featuring on the night. Lorde was a surprise inclusion in the tribute to David Bowie, joining his band on stage for a performance of Life On Mars, Bowie himself having described her as "the future of music".
The 2016 Brits drew a TV audience of almost 6m and whipped up a Twitter storm of 7.5m tweets.
Photos: john marshall/jmenternational