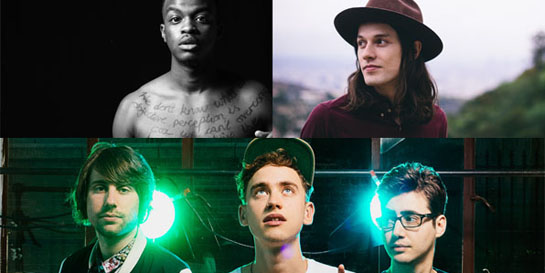 January is as good a time as any to sniff the air to find out which genres, trends, moods and artists to watch out for in 2015. The polls are out, with Universal Music's own Years & Years, James Bay and George The Poet making the strongest showing.
A while back pop was supposed to be in the ascendancy. But, as predicted by some of Universal Music's A&Rs, rock has stormed back.
We'll have to wait a few weeks until the numbers get crunched and we're told which genres came out on top last year. But Mike Smith, president of music Virgin EMI, doesn't like to focus on genres at all.
"Music should just be about good and bad," he says. "You should be able to listen to some fantastic electronic music and then punk. Already people are talking about the house music not being able to sustain throughout this year. That seems premature."
Smith also believes that artists benefit from what has been a period of relative calm in the A&R community. "A lot of bands got signed in 2013 - I think last year it was more focused on how we actually break acts," he adds.
Fiction Records chief Jim Chancellor is similarly dismissive of the genre wars but cannot deny he is happy to see guitars back on top. "Royal Blood came through and smashed it out the park," says Chancellor. "The rock resurgence has proved a lot of people wrong, including record companies. Now they want to sign a rock band for themselves."
Smith's Picks For 2015
1. The Libertines will probably release a new record after the Glastonbury Festival. "They're completely on top of their game and playing some of the best shows of their lives," says Smith
2. Slaves
3. Hawk House, a hip hop collective from Croydon
4. Duke Dumont will release what Smith describes as "the definitive statement on British house music."
5. The Strypes are readying a release for around Record Store Day with new music going to radio around February
Chancellor and Smith suggest the discovery process for finding new acts still means an old fashioned mix of good ears and legwork around venues as well as hitting the blogs and online sites.
Both A&Rs warn against fixating on viewing figures at all cost. "For us it is just about good music and good people around it," says the Fiction boss.
Similarly, Smith says metrics should only be used to back up gut instinct. "If something suddenly flies up Shazam you'd be a fool not to check it out. But, the minute you let research guide your hand you end up in a terrible place signing something you don't really like," he explains. "I think research is why a lot of things get signed, but don't work out."

They also believe the bands of the future are the ones already doing it for themselves, slogging around the live circuit or working their music on blogs to boost their numbers.
"I don't think you see the bands that skip the apprenticeship phase," says Chancellor. "They never get to the point where anyone pays any attention to them because they haven't put the work in."
With everyone from a blogger to rehearsal studio teaboy now acting as an unofficial scout, Smith suggests there is no huge reservoir of undiscovered talent. But, everyone needs to work harder to get noticed. "If you don't know how to get your music to the kind of people that will help you get it to the next level you probably haven't got what it takes," he argues. "I've met some unbelievably talented people whose music I adored, but didn't sign them because they wouldn't leave their bedrooms. If you are going to be successful you need to market your music. That might not be a purest view, but most - if not all - successful artists are very good at going out and promoting themselves."
Tips to get signed
•Upload to sites such as SoundCloud, Mixcloud, Bandcamp…
•Get some good photos and videos and upload the package to BBC Introducing and other similar platforms and blogs.
•Build a website, encourage your mates to discuss you online and do things to grab the attention of that community
Music delivery and the exponential rise of streaming has also impacted the work of A&Rs. Because of the way the music market and listener habits have changed - and will continue to do so this year - Smith is among many voices who say artist success can no longer be measured by record sales alone.
He suggests labels are now moving into partnerships with bands for a lot more than their recorded music rights because they can help invest and build many other areas of a band's business such as live performance, sync and merch.
That doesn't mean A&Rs are frantically searching for bands that can become brands - or whether identifying bands like that is even possible. "Pretty much every deal that is being done we get a sizeable amount of non recorded income," says Smith. "Ideally you want to get into the position where the number of records you sold in old money equates to the amount of income you are getting through streaming in new money."
Chancellor's Picks For 2015
1. The Maccabees, whose fourth album is expected around April
2. Spector, who will be returning with new music at the end of May.
3. Kate Boy, who has picked up a good live following
4. Meanwhile, who has been growing fans following a tour with La Roux
5. Fryars, who has just put his second album out