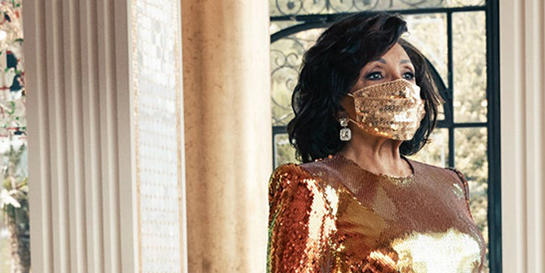 Cherished Welsh entertainer Dame Shirley Bassey releases her grand finale album today, dedicated entirely to her fans.
I Owe It All To You is described as a treasure chest of golden moments, and so Decca have been tapping into the magic and sparkle of the Dame's long standing career with both their imagery and styling, as promotional opportunities were limited due to lockdown restrictions. Thankfully, the Dame radiates gold, and so the campaign's visuals were as show-stopping as her music, and ensure that the Tigress of Tiger Bay will go out with a roar.
Welcomed by a vast array of press coverage, the team struck PR gold with an iconic shot of Dame Shirley wearing a gold face mask in a gold dress during a photoshoot in Lake Como in September. The photo graced the cover of The Times, Telegraph, Daily Mail, Metro and many more.
The team at Decca have curated a campaign around the album that exudes the luxury, style and old school class of a true music and style icon. The songs the Dame has chosen for her final LP show the depth and breadth of her career, and include songs she's been performing live for years but never recorded in the studio, such as You Ain't Heard Nothing Yet and Maybe This Time from Cabaret. What's more, there's Elvis' Always on My Mind, Beyoncé's I Was Here and Don't Know What Love Is from the recent remake of A Star Is Born.
Tapping into her loyal fanbase, the Dame offered fans an exclusive 'first listen' if they pre-ordered the album, plus the opportunity to win a signed print and a gold sequin mask identical to the one the Dame sported so luxuriously in her latest photoshoot. What's more, the fans have an opportunity to get themselves truly involved in the campaign, by simply uploading a photo of themselves and signing up to her mailing list.
In an effort to provide some support during this testing time for the arts, and give back to her fans, a photo of the Dame performing at the Royal Albert Hall in 2011 is available to buy, with all proceeds going towards supporting the staff and the venue. Look But Don't Touch, the final single from the album will be Radio 2's 'track of the week' next week and has been added straight to the A list.