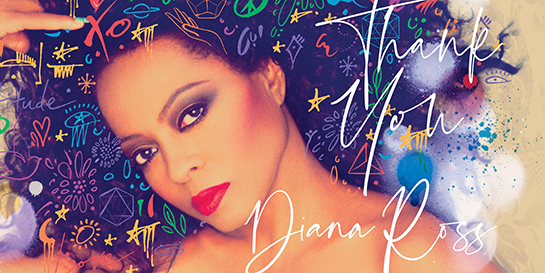 The legendary Diana Ross has a new label home at Decca who have announced the release of Thank You, her first album of original material in 22 years. Heralded by yesterday's release of the title track, the record – Diana's first release of any kind since 2006 - stands as a direct message of appreciation to her fans.
Diana has been highly involved in the writing process, from concepts right through to lyrical changes. Recorded in her home studio, Thank You offers a powerful, inclusive musical message of love and togetherness. Diana has had a Top 10 UK hit in every decade from the Sixties to the noughties which is a record for any female performer.
Decca are working closely with the international team on a global launch, involving an influencer marketing strategy to help spread the positive and heartfelt message of the album, as well as a strong digital spend. They're also planning to project the album artwork on iconic monuments and buildings in key cities with high footfall around the globe.
Decca campaign manager Jenni Champion says, "Working with one of the world's most iconic artists in such a close way has been a true honour and a complete career highlight. It would be hard to find anyone in the world who hasn't been exposed to Ms. Ross's music at some point in their lives. Ms. Ross is a visionary and one of the hardest working artists out there, it's no wonder she has had such a long and successful career. This new music is everything you would expect from a Diana Ross release in 2021 but so much more – it's the classic and true Diana we all know and love but with a modern touch. We cannot wait for the world to hear what has been created and for it to become the soundtrack of the summer!"
Sam Mumford, A&R manager at Decca adds, "From my very first conversations with Ms. Ross I knew that this was going to be a very special record. We worked closely together to assemble an incredible team of writers, producers and mixers, ensuring that this record stands alongside the most iconic moments in Diana's career. Ms. Ross' passion and drive throughout the making of this album has been such a joy to behold, and her determination did not falter even during lockdown. We set up a home studio that became a special place of comfort, a space where she could sing at any time she felt inspired. It has been an absolute honour to have worked on this record, and I cannot wait for the rest of the world to hear new music from Diana Ross. In the words of Ms Ross - 'Let Love Lead the Way'."