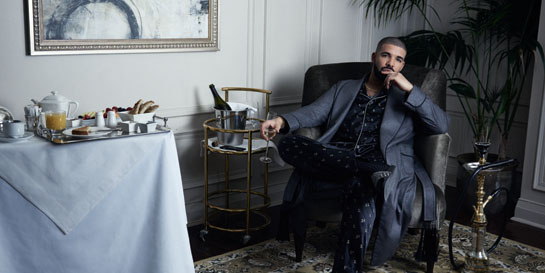 Drake has broken yet another record, a month after Views managed to notch up more streams in a week than any other track. Now his latest hit One Dance has become the longest running number one single in the digital age, overtaking Rihanna's 2007 chart topper Umbrella, and proving Drake to be one of the most significant artists in music today.
One Dance debuted at number one in April, and has remained there for 11 consecutive weeks, making it one of the longest running number one singles in the history of the official UK singles chart. The title has been taken from Rihanna who held the number one spot for 10 weeks with Umbrella although in 11 weeks One Dance has sold more than Umbrella has in nine years. Drake has astonishingly passed sales achieved by Wet Wet Wet during their 15 week run at number one in 1994 with Love Is All Around.
One Dance is the lead single from Drake's fourth album Views which is the Toronto star's first number one album in the UK. Hotline Bling was the lead single from Views, and became one of the most popular songs of 2015. Fifteen of the 20 tracks featured on the epic album are in the singles Top 100 this week.
Drake will be heading out with Future and special guests on a three month tour in the US, where Views is in its eighth week at number one on the album charts. He is currently recording the official video for One Dance in South Africa, with the full video coming soon.