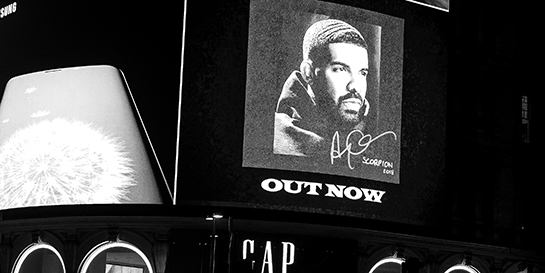 Island have ensured Drake's UK fans have added to the growing list of record-breaking statistics around the release of his hotly anticipated fifth studio album Scorpion. In a campaign of firsts, they've made the Canadian rapper the first musician to feature on the newly refurbished Piccadilly Circus lights.
Following Scorpion's release on Friday, Drake has taken control of the UK charts - as well as topping the album chart, Scorpion's streaming numbers are strong enough to have propelled every album track into the Top 40 under the old chart rules.
Globally the rapper has already made history, racking up over 132m streams on Spotify and 170m streams on Apple Music in the album's first 24 hours, crushing records held by his own 2017 mixtape More Life as the largest single-day streaming total for any album to date.
Island urban division head of marketing Johnny Brocklehurst says, "With Scorpion, Drake has proved yet again why he is the biggest and most important artist in the world. With the release of God's Plan and Nice For What, Drake has spent more weeks at number one than any other artist this millennium; spending a combined total of 26 weeks at the top of the UK singles chart. This is an exceptional campaign to be involved in and one of firsts: from setting the benchmark for the most album streams in one single day, to being the first music client to book the new 4K setup of London's iconic Piccadilly Circus lights. Drake doesn't just release music, he shapes culture. We're privileged at Island to be allowed to help tell this story."
The double album features JAY-Z, Michael Jackson, Nicki Minaj, Future and Ty Dolla $ign and boasts 25 tracks, including his #1 single God's Plan, Nice for What and I'm Upset. Scorpion will get a physical release on July 13 as a 2-CD set.