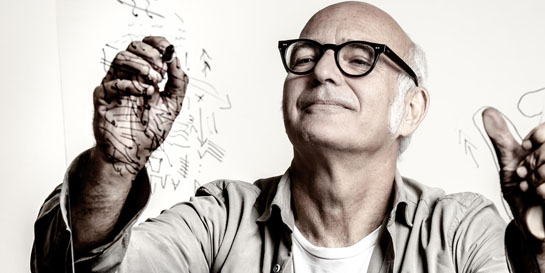 The world's most streamed classical artist Ludovico Einaudi returns with his new album Elements, released today on the back of last week's chart triumph which saw the Italian claim all 10 of the iTunes Top 10 classical singles chart positions.
The team at Decca launched the campaign for Elements with an interactive website that enabled fans to play new music from the album via their keyboards. Decca's senior marketing manager Gavin Bayliss says, "His fans have been as much a part of the campaign as the music itself. With the interactive site they were able to play some of Einaudi's new music before they could even hear the tracks in full, and now alongside the album's release we've lined up a world first Spotify takeover that will give people the chance to play his music via the 'Touch Pianist' app embedded on Spotify's UK homepage on October 20."
Alongside the interactive player Decca have also set up a hidden Morse code in Einaudi's music that leads to a voicemail left by the man himself, as well as a spellbinding remix from Scottish post-rock group Mogwai which dropped last week. There's also further mainstream promotion lined up for this week as the album is released, including a BBC Breakfast feature and a co-ordinated announcement of his tour.
Gavin says, "From Classic FM to Radio 1, X Factor to This is England via Doctor Foster, Einaudi's music is being heard via TV and radio every day in the UK. This has resulted in the most pre-orders we've ever had for an Einaudi campaign and we're aiming for the top ten in week one. Elements looks set to be his most successful album to date."
The music of the Italian pianist and composer has been heard by millions worldwide through numerous adverts, films and TV shows. His albums are consistently near the top of the UK Classical Chart and he performs at huge venues worldwide. His recently announced European tour kicks off in November and features two dates at the Hammersmith Apollo next year.