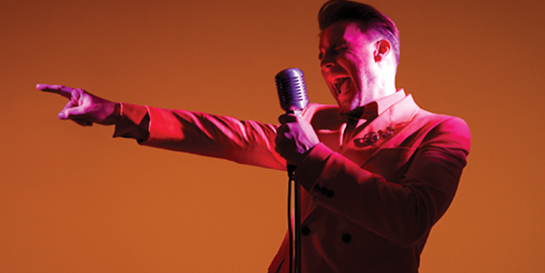 Polydor are delivering some feelgood musical escapism with Gary Barlow's first solo album since 2013's double platinum Since I Saw You Last. Released today, Music Played By Humans is a highly collaborative album recorded with an 80-piece orchestra, fusing classic showmanship with contemporary flair.
The spirit of the album is being celebrated in Polydor's campaign rollout, which includes fun and authentic TikTok activations and AR filters alongside traditional promo routes.
Polydor's head of marketing Ali Tant says, "The album title says everything about the record in four words - it's a celebration of music played by humans. We wanted the campaign to feel fun, colourful and celebratory. With the situation over the last nine months, the album has become an escape in the sense that we are celebrating a record that was made by people in the same room as each other, now at a time when they can't do that.
"A lot of what we have tried to do is amplify that celebration, through releasing fun behind-the-scenes content and footage from the studio we filmed last year, and bringing a bit of joy to people's homes with our planned TV special. Gary is one of the most respected and revered performers in the UK, who has a devout audience, so we're hoping this album will do very well."
Back in the summer, Gary released a series of duets, The Crooner Sessions, with the likes of his labelmate Becky Hill and Decca's Gregory Porter alongside Chris Martin and Jessie J. The duets racked up an incredible 94m video views, with content shared over 30m times on Facebook alone, and reached over 200m views in total. These sessions helped reintroduce Gary as a solo artist in the UK ahead of this album release, following on from the recent Take That Odyssey campaign.
Whilst the album campaign has had its challenges, especially with the number of collaborations and the limitations on face-to-face promo, Polydor have still managed to build an impressive list of highlights. To launch the album track Incredible, Polydor worked closely with the team at Globe who scored the track's sync on this year's Argos Christmas ad. For TV, the team have struck gold with the top two promo spots on the weekend of release: Gary will appear on Graham Norton's show tonight, then Strictly Come Dancing on Sunday, closely followed by a TV Special from the Natural History Museum on December 6, plus a Royal Variety Performance.
The TV special Night At The Museum is intended to be a big event, with Gary encouraging fans to dress up and make it an occasion, to enjoy some great Saturday Night TV away from phones and the 24hr news cycle, further tapping into the sense of escapism that has been built around the album. He will be joined by many collaborators and special guests, including Michael Bublé, Alesha Dixon and Decca's Alfie Boe. Gary has opened many doors by working with an eclectic selection of artists, including the Colombian artist Sebastián Yatra, one of the rising stars in the Latin scene, which has in turn provided many opportunities especially in the streaming space.
In the run up to release, Gary has dipped his toe into the podcasting space and has enjoyed creating original content on TikTok, as well as launching an AR filter. In an effort to get fans directly engaged with the record, the team released the album's sheet music ahead of the audio, leaving fans and musicians to work out the melody for each track themselves.
In terms of radio, Gary has a variety of events for key commercial stations including Magic, and both singles from the album were A-List additions at BBC Radio 2. Gary has also recorded a Christmas version of the current single Incredible launching very soon, with Polydor aiming for this album to stand the test of time throughout the Q4 Christmas period and beyond. The team have also gone big on the D2C merch bundles, and have launched a signed Christmas card bundle, which has helped to drive final pre-orders in the run up to today's release. The album is available on CD, limited edition red vinyl and cassette formats, plus a limited edition book pack format and signed boxset that includes five bonus tracks, and exclusive photos.