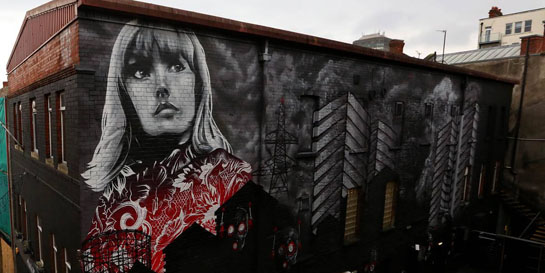 Cardiff woke up this week to a giant mural painted on the side of one of the town's walls. But, this was not the result of a graffiti artist's late night escapade. The street art daubed on the Clwb Ifor Bach music venue is part of an extraordinarily wide-ranging campaign to boost awareness of legitimate online music services.
The Get It Right From A Genuine Site initiative comes from Creative Content UK, a partnership between the music and wider creative industries, internet service providers and Government to help reduce online copyright infringement.
Visit the website here: Get It Right From A Genuine Site
The graffiti, inspired by Welsh Music Prize winner Gwenno Saunders and her album Y Dydd Olaf, marks a radical shift in approach to tackling the issue. The focus of the campaign is education and informing people about what can be accessed through legal online sites - access to 20 million individual music tracks; more than 38,000 individual films; and more than 1.5 million e-books. Alongside that there is a message about the value of copyright and how creativity – whether it is in the fields of music, art or writing – will be diminished if no one goes to a legitimate online site and pays for it.
There has already been an animated informational film explaining the reasoning behind the campaign, which has been aired during an ad break in The X-Factor.
Now a series of art projects across the country have been commissioned to draw attention to how artists from all kinds of disciplines – and working within the community - would be impacted if everyone used dodgy sites to access their creative content.
Thus the Gwenno Saunders-inspired mural painted by local Welsh artist and designer Mark James is designed to get local communities thinking about creators, how they are rewarded and that their copyrights need respecting.
Saunders explains: "Get It Right is promoting a very important message to young people about the value of creativity on their own doorstep and beyond. Wales produces some of the brightest creative talents in the world; in every discipline imaginable. We have many unique and important stories to share through our art and in order to be able to continue the wide community must support us by getting our work from legitimate sources."
Geoff Taylor, BPI chief executive and music spokesman for Get It Right, adds that the mural helps people understand the importance of supporting the films, TV, music, games, books, magazines and sports they love within their own communities; by doing so they invest in creating more of great content and in the development of new artists and ideas."