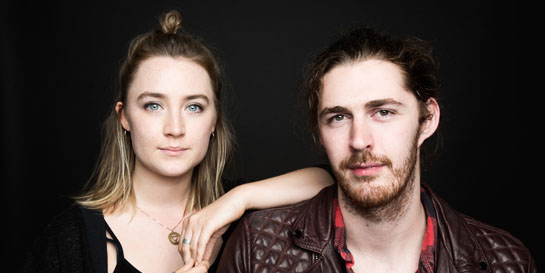 Hozier is releasing charity single Cherry Wine to raise awareness of domestic violence globally. Island will donate their proceeds to Women's Aid here in the UK.
The Irish singer songwriter has teamed up with two-time Oscar-nominated actress Saoirse Ronan for the powerful video that accompanies the track and debuts on Valentine's day. The clip also stars actor Moe Dunford (Vikings, Game Of Thrones) and is directed by Emmy winning Irish director Dearbhla Walsh.
Written from the perspective of a male abuse sufferer, Cherry Wine shines a light on the abusive relationships in a unique way.
Speaking of his decision to lead this charity campaign Hozier says, "Domestic violence is an ongoing issue in our society, the statistics of which are shocking and the effects of which damage whole families, communities and span generations. I'm honoured to be joined by Saoirse Ronan, Dearbhla Walsh and Moe Dunford in spreading awareness on this issue."
Saoirse Ronan added, "I am equally honoured to join Hozier to create awareness for the #FaceUpToDomesticViolence campaign. I hope through the video and song we can shine light on the issue and complexity of domestic abuse and in doing so help those caught up in the cycle of domestic violence".
23 charities around the globe will benefit from the release of the single, including Safe Ireland and the National Coalition Against Domestic Violence in the US. Click HERE to see which charities will benefit.