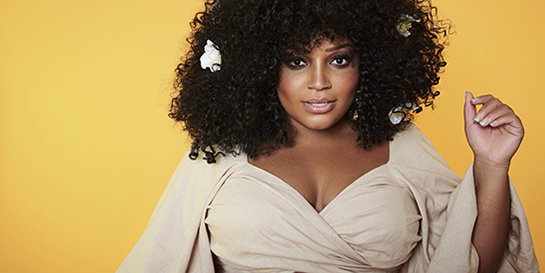 Today, Decca are releasing the debut album from one of their recent signings, the force of nature that is Marisha Wallace. Having made her name on the glittering West End and Broadway stages, Marisha has recorded an album with the Royal Philharmonic Orchestra, fusing uplifting covers with four brand new tracks.
The album project started when, in an effort to raise funds for those working in the beleaguered theatre industry, Marisha stepped up to the mic and recorded a powerful gospel cover of Tomorrow from the musical Annie. After releasing the track independently at the height of the Black Lives Matter protests, the cover went viral and took on a whole new meaning, becoming an anthem of optimism and ending up on the Radio 2 playlist and number two spot on the download chart.
Fast-forward to the present day, the team at Decca are releasing Marisha's debut album, and are certain that she will capture the hearts of everyone this winter. Marisha has been chosen to perform at the prestigious Royal Variety show, plus she will appear on Strictly Come Dancing and Songs Of Praise in the coming weeks. She has already received a huge amount of support from radio, especially BBC Radio 2 who have followed up their early support for the title track by making Tomorrow their album of the week. The team have begun an extensive alignment campaign, to capture these different touchpoints and convert them into album sales.
Decca senior campaign manager Charlotte Kindred says, "We have centralised this campaign around connecting the dots between the great radio play we've had to date, the phenomenal social engagement and growth, and the breath-taking promo looks the team have secured leading into Christmas."
Becoming somewhat of a TikTok sensation, Marisha has used her burgeoning social platforms to engage directly with her fans. Launching Sing With Marisha and Marisha Mondays, the musical powerhouse has been teaching the world to sing, giving tips on how to hit high notes and master difficult vocal tricks, as well as hosting special guests. Gaining roughly 4k followers a week, this past month Marisha has received over 3.3m impressions on Instagram, and across Tiktok Marisha has reached 110k followers in three months.
Marisha's emotive voice sends a strong message of hope in these times and she is set to become a true role model to girls the world over: a true advocate for body positivity, mental health awareness and a vocal supporter of the BLM movement, Marisha is more than just a performer.