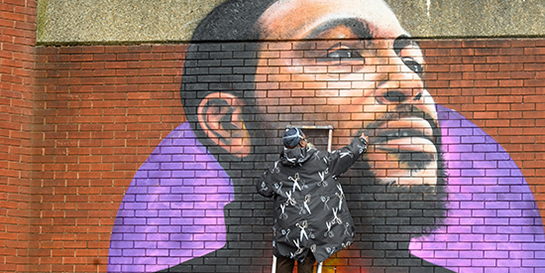 As part of the wider celebrations for the 50th anniversary of Marvin Gaye's 1971 album What's Going On, UMC and Island in collaboration with UK visual artist Dreph are today unveiling a giant public mural paying homage to the seminal LP.
Located on Canterbury Crescent in the heart of Brixton, the 16ft x 16ft piece also marks the 40th anniversary of the 1981 Brixton Uprising which was sparked by the same injustice that Marvin Gaye sang about in What's Going On.
To connect the album and surrounding events with contemporary social justice movements, Dreph has included motifs and imagery addressing the climate crisis, gender inequality and world peace, while the picket signs refer to song titles from the record.
Lee Jenson, UMC's director of marketing says, "We wanted to celebrate and mark the 50th anniversary by visually representing an album that could have equally been written yesterday as 50 years ago, as lyrically it remains so relevant today. We contacted visual artist Dreph to imagine this brief, and he's delivered a stunning mural that touches both past and contemporary societal issues."
Speaking about the mural, Dreph said: "It's an honour to make artwork in celebration of such an iconic album, from such a legendary artist. It is disappointing though, that many of the lyrics of the album are still so pertinent. This painting for me is a recognition of today, with hope for a better tomorrow".
A host of wider activities are also in the pipeline including a film by The One Show on the album's lasting significance, which aired last night. Meanwhile, 6Music have rounded up contemporary artists to pay tribute to the LP, which is also the station's album of the week, by recording cover versions of some of the tracks. Filmed at the BBC radio theatre and narrated by Craig Charles, this programme will be available on iPlayer from tomorrow.
Marvin's old friend, Claudette Robinson from The Miracles will also be a guest on Craig Charles' show tomorrow at 6pm, while MOJO are running a six page feature in celebration of the record. As well as a Guardian piece, there's also a big Music Week feature in the works.
What's Going On is also featured in the Apple TV+ documentary 1971: The Year That Music Changed Everything which is available to watch today.