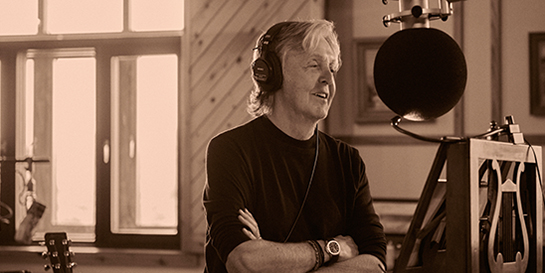 2020 marks 50 years since Paul McCartney released his self-titled first solo album, and what better way to celebrate by releasing the third album in a trilogy of classics. Released today through EMI, McCartney III will be Paul's 18th solo studio album and has been recorded exclusively during lockdown, which McCartney is dubbing 'Rockdown'. Paul has played every instrument you hear on the record, and has written and recorded the whole album himself.
EMI senior marketing manager Jessica Morton says, "Paul McCartney is back! We are so thrilled to bring you McCartney III, written, composed and produced by Paul himself. In what has been a very strange year, this album reflects an artist's experience and harks back to the solo experiences of McCartney I and McCartney II - we can't wait to share it with everyone. Huge shouts to the promo, press, radio, commercial and EMI massive on a big team effort."
Paul has recorded an interview special with Idris Elba on BBC1, a unique music video directed by Roman Coppola, a documentary with Rick Rubin and an 'in conversation' with Chris Rock. EMI have also brought in labelmates Blossoms to cover an unreleased McCartney III track, Long Tailed Winter Bird.
The number three has been a recurring theme throughout the album campaign. On October 2, Paul's official website launched a new playlist on Spotify at exactly 3.33pm BST, with a focus on previously released songs that feature Paul playing all the instruments. Then, the team launched a Spotify canvas that showed a dice rolling across the screen and stopping on the number three.
On December 4, EMI launched the activation 12 Days Of Paul, which consisted of a series of daily posts on social media platforms, unveiling the titles of each of the 11 new tracks from the new album through murals painted in 12 different cities all over the world.
Each mural showed the title of a new track, an excerpt from its music score along with the album title and its release date. The team also called all musicians to post their video covers of his 12 new songs through his special website #12DaysOfPaul, by posting their video on their social media using the hashtag #12DaysofPaul and tagging @PaulMcCartney & @AmazonMusic. Many local musicians in each location recorded a cover version of the song for their city. On December 15 the last mural of the series showed the music score of the 1979 track Wonderful Christmastime, in Liverpool.
Vinyl configurations will range from standard 180g to a Third Man Edition of 3000 hand-numbered red vinyl copies, a '333' Edition sold only via Third Man Records online store and limited to 333 copies on yellow-with-black-dots vinyl created using 33 recycled vinyl copies of McCartney and McCartney II.