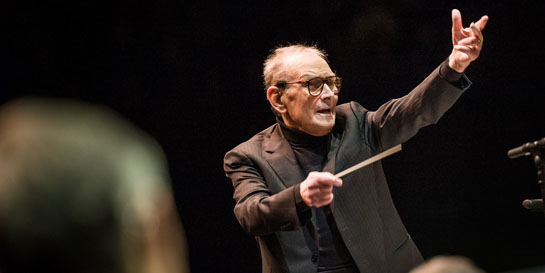 World-renowned, Oscar-winning Italian composer Ennio Morricone today signs to Decca Records for his new album Morricone 60 - celebrating his professional career which spans 60 years and 600 compositions.
Released just before his 88th birthday, Morricone 60 is the first album of Ennio Morricone's greatest hits conducted, recorded and curated by Morricone himself – and aims to create a legacy for his fans to enjoy. It sees the celebrated Maestro performing some of his greatest film music, from The Good, the Bad and the Ugly to his recent Academy Award-winning score for Quentin Tarantino's The Hateful Eight (released earlier this year on Decca).
The album features brand new recordings with the Czech National Symphony Orchestra, with whom he's collaborated on major international movie scores.
Ennio Morricone says, "After the success of The Hateful Eight score, I'm delighted to be returning to Decca with my own record deal – an extraordinary moment in my 60th professional anniversary year. It's been a wonderful experience to be able to conduct my scores and to record these with the Czech National Symphony Orchestra. The quality of their performance of my work is truly outstanding."
Rebecca Allen, Managing Director of Decca Records, says: "It is a great honour to be signing Ennio Morricone, whose iconic scores have inspired artists, film-makers and music-lovers around the world for generations. We have waited over 60 years to sign this legendary artist and are thrilled to welcome him to Decca Records – also 87 years strong!"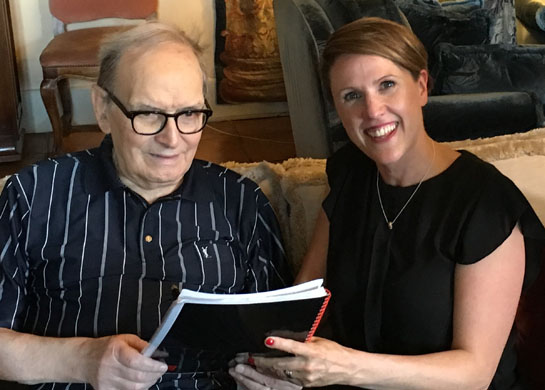 Ennio Morricone and Decca Managing Director Rebecca Allen
The new album and record deal coincides with Morricone's 60 Years of Music World Tour, which sees him performing across the globe, with over 200 musicians and singers joining him on stage. Morricone's next UK concert, his first ever outside of London, is at Blenheim Palace's Great Court on 23rd June as part of Nocturne Live, produced by Universal Music's live arm – Ulive.
The new tour follows a hugely successful European arena tour in which he performed to over 150,000 audience members in 22 cities.
Ennio Morricone has composed over 500 scores for cinema and television as well as over 100 original musical works and is one of only two film composers in history to have received the honorary Academy Award for his lifetime achievement. Highlights include his scores for Once Upon a Time in the West, One Upon a time in America, A Fistful of Dollars, The Untouchables and The Mission. Morricone's score for The Good, The Bad and The Ugly holds the number two position in the Top 200 ranking of best film soundtracks ever composed.
Morricone 60 is released on October 7
Pre-order link: http://po.st/Ennio60PRAmz
Tracklisting:
1. The Man with the Harmonica (from Once Upon a Time in the West)
2. The Fortress (from The Good, the Bad and the Ugly)
3. The Good the Bad and the Ugly – Main theme (from the film)
4. Jill's Theme (from Once Upon a Time in the West)
5. A Fistful of Dynamite (from the film with the same name)
6. The Ecstasy of Gold (from The Good, the Bad and the Ugly)
7. Gabriel's Oboe (from The Mission)
8. Falls (from The Mission)
9. On Earth as it is in Heaven (from The Mission)
10. Nuovo Cinema Paradiso
11. Abolisson (from Quemada)
12. Chi Mai
13. H2S
14. Metti una Sera a Cena (from the film)
15. Croce d'Amore (from Metti una Sera a Cena)
16. Deborah's Theme (from Once Upon a Time in America)
17. Stage Coach to Red Rock (from The Hateful Eight)
18. Bestiality (from The Hateful Eight)