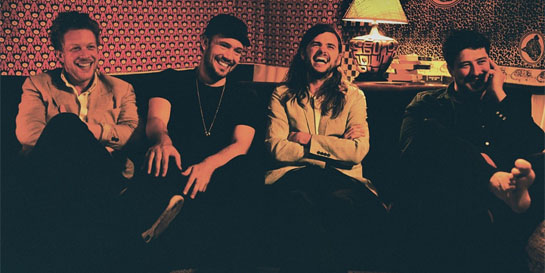 Mumford & Sons' tour in South Africa last year set the band on the path to collaborating with three of the nation's most treasured musicians - Baaba Maal, Beatenberg and The Very Best - to record a mini album entitled Johannesburg. The album, named after the city it was recorded in, was released this week by Island Records, with the band finding influence and inspiration from afrobeats and South African culture.
The mini album charts the journey travelled by Mumford & Sons following the release of their critically acclaimed third album Wilder Minds. The album reached platinum status in the UK, became one of the fastest selling albums of 2015, and reached number one in seven countries. The number one in South Africa encouraged the band to visit the country for a four date tour which sold out instantly. Two more dates were added with 85,000 tickets sold for six outdoor shows in total. Mumford and Sons bassist Ted Dwane says, "Going to South Africa felt to us to be an adventure into a continent that none of us knew well. The appetite for live music is huge and the youth culture is exploding with energy and rejuvenation."
Mumford & Sons met The Very Best in 2010, with Johan Carlberg introducing the band to the legendary Senegalese singer Baaba Maal. A mutual friendship was created, and the three came together to record an exclusive track for their South African fans, There Will Be Time. The single went straight to number one and is now the opening track on the Johannesburg album.
The musicians were joined in the studio by South African pop trio Beatenberg recorded the album over a marathon two day and two night session. Singer and guitarist Marcus Mumford describes the album as "marrying afrobeat rhythms, Esau and Baaba's voices and languages, over Western songwriting."
Baaba Maal and The Very Best joined Mumford and Sons on a Jools Holland performance in April, after the album was announced. They performed There Will Be Time and Wona, a track taken from the album.
Mumford and Sons are currently performing at festivals in the US and Europe. They return to the UK in the summer where they will be headlining British Summer Time festival in Hyde Park with support from Alabama Shakes and Wolf Alice
Johannesburg is out now.