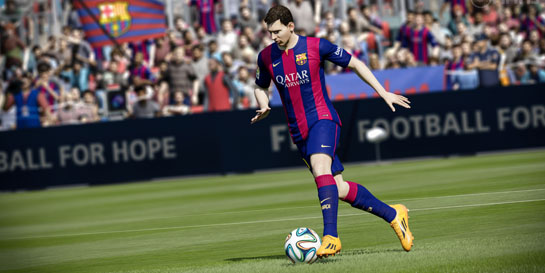 Further proof that video game music is now on a par with TV and movie soundtracks arrived this week with the launch of the latest edition of the FIFA series and a major London conference to celebrate the composers and artists behind gaming music.
FIFA 15 features more than 40 tracks from artists including Avicii, Prides, TheKooks and Death From Above 1979 and is now one of the biggest launches in the gaming calendar following the 15 million sales success of last year's 14th edition of the football game.
In a unique move, Electronic Arts have created a FIFA 15 radio station on Dash Radio, which will give many listeners their first opportunity to hear music from the new game, including the recently released single Cocoon by Catfish And The Bottlemen. Like previous editions, the FIFA 15 soundtrack will also be available on Spotify.
Universal Music regularly supplies music to EA and has nine tracks featured on the latest FIFA game (below). Greg Turner, senior creative licensing manager at the group's creative and commercial partnerships division Globe, says because the video market is booming and some games, such as FIFA, Grand Theft Auto from Rockstar Games and Microsoft's Forza Motorsport use a lot of music it is a major opportunity for bands to find a wider audience.
FIFA 15 Universal artists on the soundtrack:
Avicii - The Nights
Broods - L.A.F.
Catfish And The Bottlemen - Cocoon
Death From Above 1979 - Crystal Ball
Madden Brothers - We Are Done
MPB4 & Fatboy Slim - Agiboré (Marky's Ye-Mele Refix)
Prides - Out Of The Blue
Tensnake - Pressure feat. Thabo
The Kooks - Around Town
"Games get bands into a lot of homes that would not necessarily pick up on that new music tip," says Turner. "A lot of the casual players might not be into newer bands and it gives artists a real window to expand their fan base and win over new fans. There are only so many tracks in the new game and they're played on rotation so people who quite happily play FIFA for four or five hours a day are going to get to know the tracks. It is viewed now as a way for people to discover new music."
Last year, for example, FIFA 14 featured tracks from a number of breakout artists including CHVRCHES and John Newman, with Newman's track Love Me Again benefitting from a significant streaming spike on Spotify around the game's launch.
Just how seriously major game publishers such as EA, Rockstar, Microsoft and Call Of Duty publisher Activision Blizzard now treat the music composed or sourced and selected for their games was underlined this week at the second Game Music Connect conference.
This saw a raft of video game music composers and supervisors discuss the history and development of music used in the sector and specifically how game music is evolving. EA's worldwide executive and president Steve Schnur delivered the keynote speech and said, "This is a crucial yet exciting time for game music, and sharing ideas – or challenging perceptions – is essential to all of us ."
In fact planning for some game soundtracks can take the best part of a year with Turner and his team supplying music supervisors with regular updates on new bands and their music. "They tend to want new stuff. They want to be as fresh as possible, which keeps the game more relevant," Turner says, adding every kind of musical genre is relevant for all styles of games because they have worldwide appeal for gamers whose ages can range from young teens to those in their forties or older.
YOU HAVE TO GET THIS GAME! Not just cause the lids are onnit but because it's absoluteeeely CLASS!!! #FIFA15UKLAUNCH pic.twitter.com/qDlpwFTgQ8

— Catfish&theBottlemen (@thebottlemen) September 22, 2014
Importantly, Turner and the music supervisors at the game developers also ensure they pick tracks that won't become annoying over time because players will be listening to the music soundtracks until the next game launch - usually in 12 months time. "They do need a mixture. A lot of music is used for menus or more background stuff so that has to be slower, but obviously the more uptempo stuff does work well," Turner adds.
Because so many musicians have been brought up on Xbox and Playstation consoles, the relationship between games and bands featured on soundtracks is natural. Games such as FIFA have become mainstays on tour buses, which means bands are not only familiar with the games but have played them numerous times making the promo opportunities particularly strong.
Catfish And The Bottlemen are already enjoying their association with FIFA 15, having tweeted extensively about their contribution to the soundtrack with the band's lead singer Van McCann adding that they've played the football game ever since they were "old enough to hold pads".