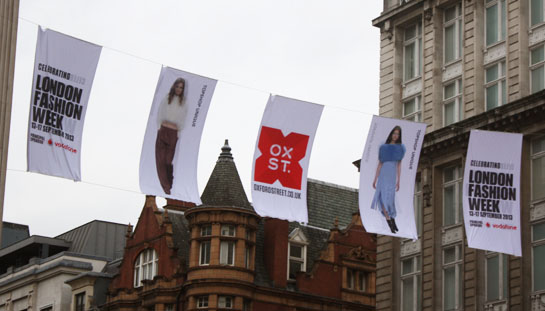 Oxford Street gears up for fashion week
The arrival of London Fashion Week is as good excuse as any to examine the relationship between two of the most cutting edge industries.
Universal Music works with several of the big designer houses and many of our artists connect with fashion. Earlier this year Jake Bugg performed at the first Burberry-hosted live music event at the label's London flagship store; Bugg is also a fan of the clobber. Lana del Rey meanwhile has fronted a campaign for H&M and - in the ultimate music and fashion hook-up - the singer has had a Mulberry handbag named after her.
Jennifer Hills is senior director of partnerships at Universal Music UK's Globe division which has created music for catwalk shows and paired artists with fashion brands for videos and ads. Jenn recognises the close synergy between music and fashion: "All the fashion houses want to dress an artist because fashion wants something new and artists are so recognisable. And from our point of view it can be a platform to showcase new talent," she says.
And for some starting out on their musical career, it's no bad thing to be able to show off a few stylish pieces on stage.
Ever since the teenage Elvis Presley pursued 50s fashion in tandem with his Memphis tailor Bernard Lansky, pop stars have called on clothes and style to help project and boost their image. One look at Lady Gaga's meat dress confirms the fusion of style and sound has got even more intense over the last decade with the line between music and fashion becoming blurred.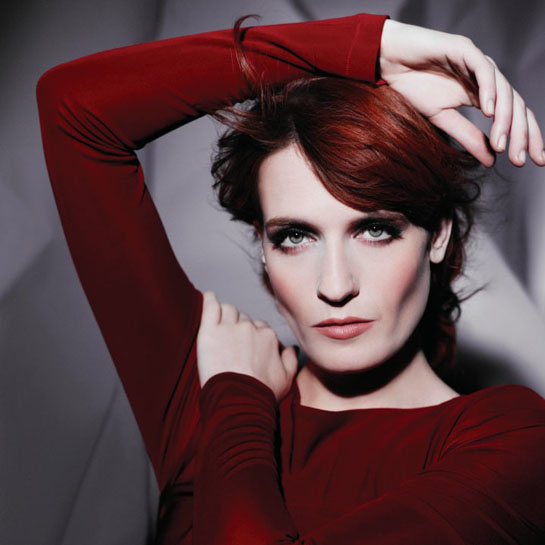 Florence Welch photographed by Chanel creative director Karl Lagerfeld
Some musicians don't even blur the lines. Singer and style icon Rihanna debuted her first collection for River Island earlier this year at London Fashion Week while former Spice Girl-turned-global-fashion phenomenon Victoria Beckham was a judge at the event.
Jay Z showcased his style talents alongside his music career with the launch of cool urban line Rocawear way back in 1999; Beady Eye frontman Liam Gallagher has been busy designing for his own label Pretty Green, bringing in Paul Weller to launch his own capsule collection; and Pixie Lott has also designed outfits for Lipsy.
Recently Burberry's chief creative officer Christopher Bailey announced that music is now so important to projecting the right image for his label that the designer has his own dedicated music team searching out new talent to play in stores, on campaigns or provide music for his catwalk shows.
The label has even launched its own album, Burberry Acoustic, featuring David Bowie and Elton John alongside newer artists. Music, Bailey claims, "sets the directional mood for what we're working on."
At the Spring/Summer 2014 Fashion Week, which starts on Friday, the count of pop stars among the fashionistas promises to be high as ever with Mick Jagger's designer partner L'Wren Scott, pop festival favourite Henry Holland and Sir Paul's daughter Stella McCartney all scheduled to show.
Perhaps, it isn't such a surprise fashion has taken this major role in music. When Elvis stepped out on Beale Street in his black shirt, black pants, white tie and sports coat, his look was probably as game changing as his music.
Fashion historian and author Paul Gorman, author of The Look the definitive book on music and style, says the Elvis's sartorial look was all part of the package. "But, it probably wasn't until The Beatles came around with their suits that people started to take notice of the clothes. People like David Bowie and Brian Ferry took the whole style thing further and now fashion is probably as important to making a hit record today as the music itself," says Gorman.
Bowie's impact on fashion was celebrated at the V&A retrospective David Bowie Is earlier this year and Lady Gaga's style has carried through to the catwalk with Dolce and Gabbana and Prada keen to mop up some Gaga credibility with designs influenced by her.
"The advent of MTV in the early 80s made it an absolute necessity for bands to look good and stand out from the crowd," says Gorman. "Nowadays everyone recognises that music is the best way to sell fashion and vice versa."
Florence Welch is almost as likely to be papped at a fashion show as a music festival and Topman, that wardrobe staple for every young band starting out, has added promoting gigs by hot new acts alongside its day job of unveiling new silhouettes for its autumn/winter collection.
Seemingly, the next logical step in the fashion/music mash-up is for a fashion designer to pick up a guitar. Oh, that's already happened: Pam Hogg, whose catsuits have adorned Siouxsie Sioux, Lady Gaga, Kylie Minogue, Kelly Rowland and Cheryl Cole, has long fronted her own bands.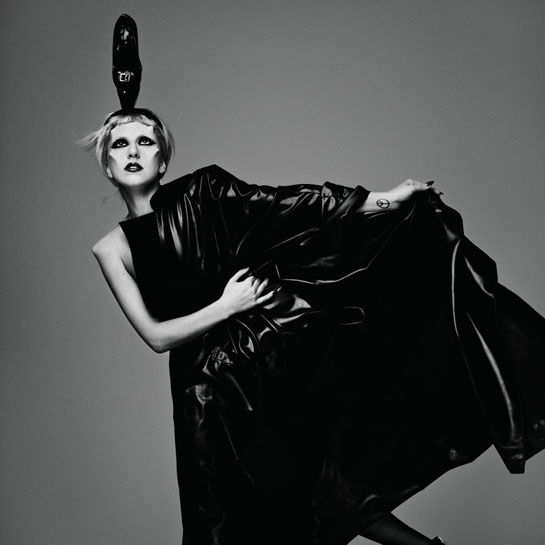 Lady Gaga wearing a black latex coat by MUGLER
Who Wears What?
Mid 50s:
Elvis Presley - Lansky Bros Memphis
Early 60s:
The Beatles - Dougie Millings
Swinging 60's:
The Rolling Stones and The Kinks - John Stephen,
The Who - Granny Takes A Trip, Ossie Clark, Michael Fish
Jimi Hendrix - Tommy Roberts' Kleptomania, I Was Lord Kitchener's Valet
Early 70s:
Elton John and David Bowie - Mr Freedom
Marc Bolan - Alkasura
Marianne Faithfull, Yoko Ono and Cilla Black - Biba
Mid-late 70s:
Sex Pistols - Sex and Seditionaries
Madness - Johnson's
Early 80s
Boy George - Boy
Bow Wow Wow - Vivienne Westwood
Duran Duran - Antony Price
1990s:
Madonna - Jean Paul Gaultier
Oasis and Pulp - Burro
David Bowie - Alexander McQueen
2000s-now:
Franz Ferdinand and Pete Doherty - Dior Homme
Paul Weller and Take That - Mark Powell
Mumford & Sons - Child Of The Jago
Jim Jones Revue and Artcic Monkeys - Lewis Leathers
Florence Welch - Louis Vuitton and Miu Miu
Lady Gaga - Pam Hogg and Versace