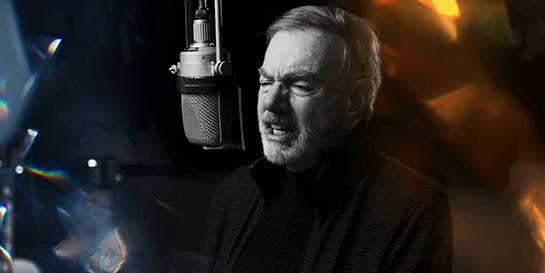 A global singalong of Neil Diamond's much-loved Sweet Caroline has been launched to accompany today's release of EMI's new album from the Grammy Award winning artist: Neil Diamond With The London Symphony Orchestra, Classic Diamonds.
The 14-track studio album compiles Diamond's most celebrated hits, featuring new vocals from the man himself and paired seamlessly with a new musical interpretation of the tracks performed by the London Symphony Orchestra, recorded both at Abbey Road and at Diamond's studio in Los Angeles. In the run up to today's release, key single Heartlight has been spinning over on Radio 2.
EMI senior marketing manager David Balls says, "Neil Diamond re-recording 14 of his classic tracks with the London Symphonic orchestra is a very timely release coming at the end of what has been a turbulent year across the world. Neil is one of the world's best loved musicians and this record really captures why he has had a decades-long career and is loved the world over. It'll make for the perfect gift this Christmas for many families around the world."
The Sweet Caroline Global Sing-Along has been launched today at www.sweetcarolinesingalong.com to encourage people from around the world - fans, celebrities and influencers alike - to upload videos of them singing their version of Neil's world famous classic. The singalong will run for a two week period, ending on December 4, and the joyous results will be available to see on December 11, when a compilation of highlights will be posted live.
David adds, "Sweet Caroline is a song that soundtracks so many different moments in life: rugby matches and football games, an unofficial Covid viral sensation, and many a family singalong after a few mulled wines. The global singalong has been set up to bring the world, families, individuals from all walks of life together for a little bit of uplifting moments and escapism as we round off the year."
Continuing to reach out to all the generations, the team have also tapped into the TikTok space by launching a TikTok and influencer campaign which they're rolling out globally. Using the original version of the song, the campaign will run for a week and a half with contributions coming from some of the most influential Tik Tok creators from the UK, US, Germany and Australia.