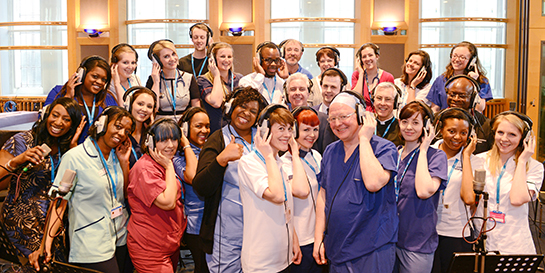 The NHS Choir signed to Decca earlier this year, after beating Justin Bieber to Christmas number one with their enchanting version of A Bridge Over You.
With an album scheduled for release on June 24, (Something Inside) So Strong is the first single to be released following their new deal. The choir is made up of over 30 members from across the NHS, with the new single being released to mark the 70th anniversary of the passing of the NHS Act of July 1946.
Choir co-ordinator Caroline Smith says, "I am delighted to be able to represent and support the NHS with such a special album. When everyone comes together in the choir, it's really powerful, I've never experienced anything quite like it."
For their debut album, also titled Something Inside So Strong, The NHS Choir have recorded a variety of popular song, with covers of Thinking Out Loud by Ed Sheeran and Carole King's classic You've Got a Friend as well as their Christmas number one.
After performing at the FA Cup final, The NHS Choir have been added to the Glastonbury line-up, opening the Pyramid stage at the festival alongside Blur frontman Damon Albarn.
Decca product manager Jessica Simmonds says, "It's a great honour to be working with the NHS Choir and to release an album in celebration of the amazing work they do. The choir have been on an incredible journey and their hard work, spirit and devotion to both their jobs and music are an inspiration to all."
Continuous support from fans has helped to spread the choir's message and celebrate the NHS and their staff.