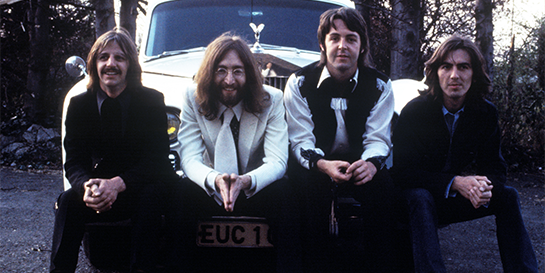 Beatles fans around the world are sharing their thoughts and emotions about the last-ever Beatles track, following UMR's release yesterday of Now And Then as part of a carefully-orchestrated campaign.
The excitement was particularly high in the Beatles' home town of Liverpool, but no stone has been left unturned in the global roll-out which leads up to next week's release of special 2023 editions of The Beatles' 1962-1966 ('The Red Album') and 1967-1970 ('The Blue Album') collections.
Orla Lee-Fisher, UMUK's EVP, strategic marketing, says, "The support for the launch has been unprecedented globally, the whole UMG family and all our partners have embraced this historic release. We are all very fortunate to be able to work on a new Beatles song, and to have the opportunity to bring The Beatles to a whole new audience as well as long term fans."
Now And Then was written and sung by John Lennon, developed and worked on by Paul McCartney, George Harrison and Ringo Starr, and now finally finished by Paul and Ringo over four decades later.
It was released worldwide at 2pm GMT / 10am EDT / 7am PDT yesterday as a double A-side single pairing the last Beatles song with the first: the band's 1962 debut UK single. Both songs are mixed in stereo and Dolby Atmos®, and the release features original cover art by renowned artist Ed Ruscha. The new music video for Now And Then debuts today, following Wednesday's launch – in the UK, on the One Show as well as YouTube - of a poignant 12-minute short film- "Now And Then - The Last Beatles Song". The documentary was written and directed by Oliver Murray with exclusive footage and commentary from Paul, Ringo, George, Sean Ono Lennon and Peter Jackson.
That's not all for The Beatles, as next week their beloved compilation albums 1962-1966 (The Red Album) and 1967-1970 (The Blue Album) will receive expanded reissues. The collections will be available to purchase digitally, on 2CD, black vinyl in addition to limited edition Beatles Store-exclusives which include a coloured vinyl in red and black. Fifty years after their first release, both collections' tracklists have been expanded, with all the songs mixed in true stereo and Dolby Atmos. The UK single version of Love Me Do now kicks off 1962-1966 (2023 Edition), and Now And Then is featured on 1967-1970 (2023 Edition) to complete the career-spanning collections.
The story of Now And Then begins in the late 1970s, when John recorded a demo with vocals and piano at his home in New York's Dakota Building. In 1994, his wife, Yoko Ono Lennon, gave the recording to Paul, George and Ringo, along with John's demos for Free As A Bird and Real Love, which were both completed as new Beatles songs and respectively released as singles in 1995 and 1996, as part of The Beatles Anthology project. At the same time, Paul, George and Ringo also recorded new parts and completed a rough mix for Now And Then with producer Jeff Lynne. At that point, technological limitations prevented John's vocals and piano from being separated to achieve the clear, unclouded mix needed to finish the song. Now And Then was shelved, with a hope that one day it would be revisited.
Cut to 2021, and the release of The Beatles: Get Back docuseries, directed by Peter Jackson, which astonished viewers with its award-winning film and audio restoration. Using WingNut Films' MAL audio technology, Jackson's team had de-mixed the film's mono soundtrack, managing to isolate instruments and vocals, and all the individual voices within The Beatles conversations. This achievement opened the way to 2022's new mix of Revolver, sourced directly from the four-track master tapes. This led on to a question: what could now be done with the Now And Then demo? Peter Jackson and his sound team, led by Emile de la Rey, applied the same technique to John's original home recording, preserving the clarity and integrity of his original vocal performance by separating it from the piano.
In 2022, Paul and Ringo set about completing the song. Besides John's vocal, Now And Then includes electric and acoustic guitar recorded in 1995 by George, Ringo's new drum part, and bass, guitar and piano from Paul, which matches John's original playing. Paul added a slide guitar solo inspired by George; he and Ringo also contributed backing vocals to the chorus.
In Los Angeles, Paul oversaw a Capitol Studios recording session for the song's wistful, quintessentially Beatles string arrangement, written by Giles Martin, Paul and Ben Foster. Paul and Giles also added one last, wonderfully subtle touch: backing vocals from the original recordings of Here, There And Everywhere, Eleanor Rigby and Because, woven into the new song using the techniques perfected during the making of the LOVE show and album. The finished track was produced by Paul and Giles, and mixed by Spike Stent.
Hannah Chadwick, head of marketing at UMR, says, "To see people crying while watching the short film and hearing the song for the first time really puts into perspective how much the Beatles still mean to fans young and old today. It has been an amazing campaign to work on and very much a team effort from everyone involved.
"Starting in Liverpool, the birthplace of the Beatles, with our OOH tease campaign into a global campaign that saw takeovers in NY and Tokyo and the short film broadcast in over 24 countries. The reaction speaks for itself. With Now And Then currently #1 on all UK DSP and download platforms, as well trending #1 on Youtube and Twitter - there's so much more to come."