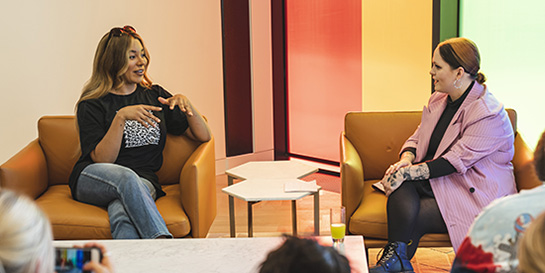 This week saw the inaugural Universal Music x Pride event take place at 4PS, an evening featuring music, cake and special guests for our LGBTQ+ community and allies
The event kicked off with a talk from AKT, a national charity created in 1989 to serve lesbian, gay, bisexual and transgender young people who are homeless, living in a hostile environment or in housing crisis. They provided practical advice on how individuals can support their important work, while thanking Universal Music for raising £1,500 for the charity as part of the 4PS Pride celebrations.
Next up was an in conversation between UMC's licensing apprentice Lucy Garcia and the activist Munroe Bergdof. They discussed how creatives can use their talents to voice opinions and inspire change, the representation of LGBTQ+ artists in the music industry and ways to advance equality and diversity in society.
Lucy says, "It was such a privilege to be involved in the creation of Universal Music's first Pride event in the UK, it's amazing for the company to be celebrating our LGBTQ+ community and I look forward to seeing how it grows and how we can continue our work with AKT".