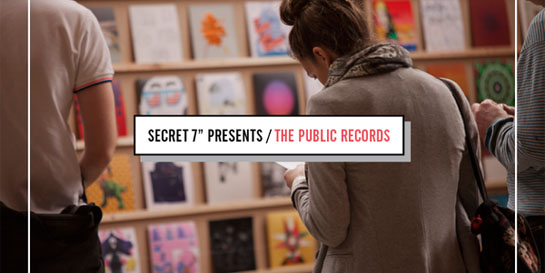 Here's your chance to win one of four direct to vinyl recording sessions at Secret 7"s The Public Records on April 11.
Secret 7" is back for 2015 and on Saturday April 11 we'll be taking over the makeshift recording studio space in the show at Somerset House. Our winners will have 15 minutes to create your own musical masterpiece using the musical instruments in the space. It's the ideal prize for all of the budding musicians out there.
Read more about Secret 7" HERE.
The recording is cut straight to vinyl and the winners will get to leave with a one-of-a-kind 7" recording, as unique as the sleeves in the exhibition.
The performances, recording and live cutting of vinyl will all be visible to the public.
We've got four slots to give away and all you've got to do is send us your own musical track that you want to record in the space.
You can tweet it at us on @umusicuk with the hashtag #umusicrecords or you can email it to us on contact@umusic.com.
Entries will close on Thursday April 2 and one of our A&R's will choose their four favourites to be announced on Friday April 3.
Your entries must be able to be recorded with four or less people using just the instruments in the space: acoustic guitar (x 2), electric guitar (with small amplifier), electric bass guitar (with small amplifier), electric piano and various hand percussion and bongos.
Your entry must be less than five minutes long, you must be able to play it in one take following a soundcheck and you'll be able to record it without headphones.
Listen to an example of what we expect to be able to cut live to vinyl from a solo acoustic performance.
This project would not be possible without Broadfields Studio and One Cut Vinyl. All the profits from these events will be added to our total raised for Nordoff Robbins.
The gallery and recording space is at Somerset House (Strand, London WC2R 1LA). Read more about Secret 7" HERE - and more about The Public Records HERE.