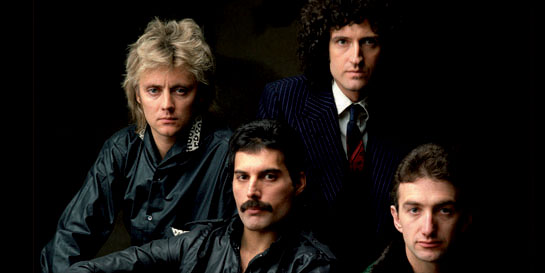 Queen have gone straight into the record books after becoming the first act to sell more than 6m copies of an album in the UK.
The band made chart history after clocking up the multimillion sales for their 1981 released Greatest Hits album.
The Official Charts Company has now certified the album, which features the tracks We Will Rock You, Another One Bites The Dust and Bohemian Rhapsody, Britain's best selling of all time.
That puts it ahead of albums by acts including The Beatles, Adele and Oasis and it is estimated that a staggering one in three households in the country own a copy of the Greatest Hits package.
Queen's guitarist Brian May acknowledged that this was an "incredible" achievement after three decades of sales. May added, "Great news, amazing news. Queen's Greatest Hits has passed the 6 million mark in sales, which is incredible. So I just want to say thanks to everyone who has supported us through the years and we hope to continue to serve you."
Roger Taylor also said it was "wonderful" to sit at the top of the best selling album chart. The band's drummer added, "Who would have thought it? And all due to the Great British public. Thank you. A great honour."
Official Albums Chart Top 5 – all-time:
1. Queen, Greatest Hits (1981) - 6.0m sales
2. Abba, Gold - Greatest Hits (1992) - 5.1m sales
3. The Beatles, Sgt Pepper's Lonely Hearts Club Band (1967) - 5.1m sales
4. Adele, 21 (2011) - 4.7m sales
5. Oasis, What's The Story Morning Glory (1995) - 4.6m sales
© Official Charts Company 2014. All rights reserved. (Sales rounded to 100k).
The landmark achievement sees Queen easily outsell - by 900,000 copies - the next ranked multimillion sellers, Abba's 1992 Greatest Hits package Gold and The Beatles 1967 album Sgt Pepper's Lonely Hearts Club Band. They have both notched up 5.1m sales. Adele's 2011 release 21 has now sold 4.7m copies with Oasis' What's The Story Morning Glory clocking up 4.6m sales overall.
Further, Queen's Greatest Hits II, which was released in October 1991, also rides high in the OCC's best selling albums list: it has notched up 3.9m sales to date in tenth place.
Martin Talbot, chief executive of the Official Charts Company, said the 1981 album hadn't run out of steam and continued to attract thousands of sales each week, 33 years after its release. For an album that was first released in the vinyl and cassette era, Queen's Greatest Hits has also smoothly navigated both the CD and digital formats with the OCC recording 120,000 downloads of the album already.
Talbot added, "Ever since it was first released, this package of classic pop and rock tracks has been an indispensable item in every music fan's record collection – perhaps the definitive greatest hits album."
The BPI's Gennaro Castaldo said the move firmly established Queen as "part of our music heritage" and said he believed the demand for the band's songs will continue with new generations of fans.
At the end of last year Queen and Universal Music renewed their partnership with a new, long term deal that promised a range of new projects including a raft of rare and unreleased material and a film.
2011 saw a major remastering and repackaging programme of the band's 15 studio albums and a series of high profile events, including the Stormtroopers in Stilettos exhibition, to celebrate their 40th anniversary.