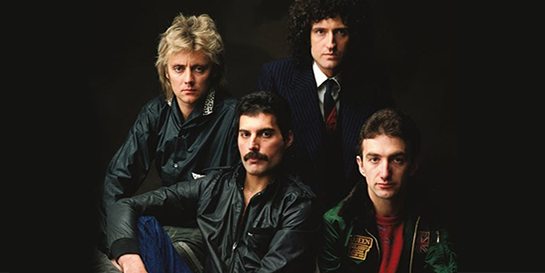 As the UK's biggest-selling album with 6.75m sales and the third-longest chart run, Queen's 1981 Greatest Hits collection is today getting a limited edition re-release via EMI.
Celebrating not only 50 years of Queen but also the album's 40th anniversary, the Official Queen Online Store will exclusively offer the collectors' edition Greatest Hits CD and four highly limited band member colour cassettes, each with a different colour for Freddie Mercury, Brian May, Roger Taylor and John Deacon.
The slipcase CD encases a CD-sized print personally signed by band members Brian May and Roger Taylor which is limited to 1,000 copies only. The album, Queen's first retrospective release, includes some of their best-known hits between 1974 and 1980, not least Bohemian Rhapsody alongside the Top 10 hits Another One Bites The Dust, Killer Queen, You're My Best Friend and We Will Rock You.
The original TV ad and OOH creative have been resurrected from the archives and will be running throughout release week alongside ads across radio and digital. Meanwhile, the fastest-growing UK commercial radio network Greatest Hits Radio has a week of special programming in the pipeline to help in the efforts to get the album back to the number one spot, as well as promoting the label's competition to win one of 25 copies of the new limited edition release. In addition, Sky Arts are airing a host of Queen live footage tomorrow, running from 3.30pm until 2.45am, showing performances from Queen at venues such as Wembley and in Rio, as well as a performance from Queen + Adam Lambert.
EMI marketing manager David Balls says, "Queen's incredible legacy speaks for itself, and their music continues to reach new audiences around the world. This is a year celebrating 50 years since their formation and 40 since the original collection was released, and to celebrate we have delved into the archives to share some of the creative used originally, which still feels as fresh today as it did on first release."
In other news, ABBA Gold, another perennial Universal Music hits collection, today makes history as the first album to reach the epic milestone of 1,000 weeks in the UK album chart. First released in 1992, Gold has topped the charts on five different occasions, and is the UK's second biggest-selling album - losing out only to Queen's Greatest Hits.