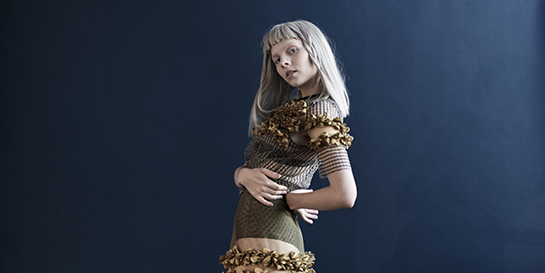 It's all go at Decca ahead of Norwegian luminary Aurora's second album. The team have kicked things off with the release of her new single Queendom, which is already growing her 'Warriors and Weirdos' fanbase.
Aurora first made her mark, and racked up 10m YouTube views, with her enchanting cover of Oasis' Half The World Away for the 2015 John Lewis Christmas ad. Decca marketing manager Chris Kershaw says, "Aurora has been a great artist development success and we're really excited about her new campaign. She's completely unique and inspires a devotion and connection amongst her fans that I've rarely seen. She's built a formidable international fanbase and her global reach through socials, streaming and video reach is massive. Her Brazilian fan page alone has 200k followers! Queendom is an amazing comeback and a real statement for a young artist ready to step up to the next level."
Queendom launched earlier this week with a Zane Lowe interview and first play on Beats 1. Prior to that Aurora appeared at Coachella, posting her behind-the-scenes experience on MTV's Snapchat.
The track was released together with an announcement of her European tour dates. As her second time visiting Europe, the 21-year old has become familiar with her global influence, already she has acquired over 500m combined streams worldwide and over 300m total video views.
Troye Sivan and Katy Perry have publicly expressed their love for Aurora, prompting her to comment in recent NME interview, "It is surprising to have a toe in that world which seems so far away."
Following a series of summer festival appearances, her eight-date European tour in kicks off on October 10 at Manchester Academy and concludes at La Cigale in Paris on October 30. The run also includes a show at London's Kentish Town Forum on October 11.