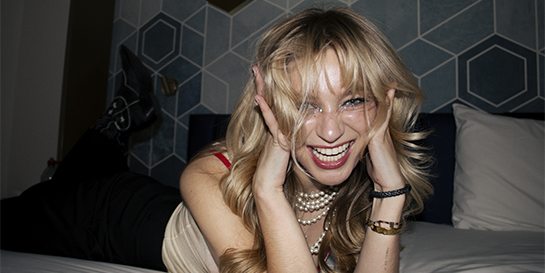 Island's Dylan has today released her new single, Rebel Child, following a fan-first campaign which has seen her closely document the release on social media, including sharing her most rebellious childhood stories.
Dylan has been spotted all over London gearing up for the release, from capturing temporary artwork with her photographer Annie Reid, to picking up her dad's vintage car last weekend and driving it around the city, which features in her music video.
Island have seen great early reaction to the single and its theme of rebellion, with Dylan in the driving seat of the campaign, storytelling the roll out of Rebel Child on socials, where she shared her most rebellious stories, which involved her sneaking cigarettes into school and getting into clubs with fake IDs. Soon after, Dylan shared a video of her shaving her eyebrow to capture herself in the 'rebel child era'.
In just over a month, the single was teased nine times on TikTok, attracting twice as many views (1.8m) than her previous single Liar Liar which was posted 19 times. The official sound itself has already seen over 2.6m views with 345k total likes across all nine videos. UGC is slowly growing with two original sounds sitting at 367 creations, while on Instagram with two reels only, Dylan has had close to 1m views.
Building on her fan relationships, Dylan asked followers to send in pictures of their younger selves and create 'rebel child era' videos that have amassed a combined total of 70k views. On Wednesday, Dylan also teased the recording of her acoustic version of Rebel Child, taking to stories to share snippets of the process.
There's been no shortage of praise for Dylan from the likes of Dork, The Telegraph, NME, BBC News and Rolling Stone UK, who said, "She's already proving to be one of pop's most hotly tipped prospects, no doubt helped by her formidable live performances."
Island marketing manager, Soraya Stanley, says, "It's really inspiring to work with such a leant in and creatively empowered artist as Dylan, she's so in-the detail with all aspects of the campaign, and really lives and breathes her music. The storytelling, and energy she's been pushing out across socials to bring her fans along the journey of this single campaign has been great, and she's really been ripping up the rule books with marketing."
Alongside going on tour the US with Gayle next month, Dylan will also be supporting Ed Sheeran in LA before she goes on a UK, EU and US headline tour in early 2024.